Jost Van Dyke 2
Purple Mist
Skipper: Kate Cope
Fri 17 Mar 2023 12:04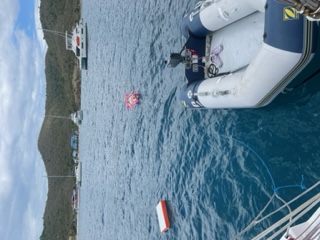 Some of the biggest laughs of the holiday have come from "Speedy" our little dingy generously loaned by our friends on Taz. With its 2HP engine , slightly saggy tubes and a weeping leak it's usually anything but Speedy and always wet . However it's been super reliable and an absolute must to get us too and from the shore.
Up at Saba rock we did some snorkelling and then embarked on a whole circumnavigation of Eustatia Island in Speedy. Unfortunately we forget to check the fuel afterwards and on a later trip to a beach bar for dinner we ran out of fuel and had to be unceremoniously towed back to Purple Mist.
Last night coming back from Foxys it was going to be so wet with the waves that we all stripped down to pants to save our clothes and Saoirse was in just a bra and pants …luckily to spare her blushes it was quite dark !
Purple Mist is not so fond of Speedy dingy as he does creat quite a bit of drag knocking at least a knot off the boat speed. She is just looking forward to racing again next week at the BVI regatta. This will be the last racing date in the calendar before Claire leaves for Maryland and I take the boat back to Antigua to be loaded on the ship home.
I'm shipping with Sevenstar who have promised me an earlier Mid April shipment than Peter's & May who ship Mid May. I've been reassured it will definitely be going….famous last words!

Another spectator sport in Great Harbour Jost Van Dyke is mooring buoy wars. The mooring buoys are in short supply and we were lucky to nab the last free one yesterday. Almost the minute they become free 2 new boats will be speeding towards it threatening each other with boat hooks. Another tactic is to launch the dingy and speed over and sit on the buoy. Sadly Speedy is not fast enough up to be deployed to this task.

Today we had another day in Jost Van Dyke and went back to the Bubbly Pool for a second dip as Saoirse, who has joined us for a week, missed it last time The waves were a bit calmer in the pool so easier to enjoy the bubbles . The coastal scenery was stunning.


In the evening we chilled on the beach and Claire got friendly with one of the locals

---