Day 2 Spanish Coast
Purple Mist
Skipper: Kate Cope
Fri 3 Dec 2021 16:49

36:40.316N 002:12.03W

After the stormy weather last night with 40kt gusts and lightning it was a welcome relief when the wind died and the sun came out.

We have had a lovely sail down the Spanish coast, alternating between motoring and sailing close hauled. Not a cloud in the sky so it's been lovely and sunny though you wouldn't call it hot- I still have my thermals and mid layer on.

I'm being very well looked after , so far not cooked a thing or made a hot drink - well no-one has actually shown me how to work the jet boils yet !! I could get used to have tasty food and drinks handed to me.

Plenty of sleep in the cosy bunk which seems to be a magnet for the Teddy on board. You just get comfy and you find you are sleeping on Big Ted.

Slight leak from one of the cans of diesel is making the heads/ technical room a bit smelly so I'm now off to try and get rid of that. Meanwhile Jeremy has diagnosed our engine alarm issue as the oil pump.





Sailing along nicely with full sails




Feels like a completely different set up of all the lines and halyards but I'm getting used to it






Spanish coast





Home for the next week . We also have all the race sails, 2 Spinnaker poles, racing mainsail, so only just enough room for 1 bunk.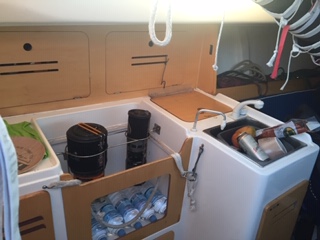 The mystery Jet boils !!
---