Early one morning just as the sun was rising ...Jog Weymouth
Purple Mist
Skipper: Kate Cope
Tue 30 Jul 2019 21:11
50:36. 435N 002.27.03W

The next race in the JOG inshore series was Weymouth . I'm currently lying in second place overall in 2H in this series so everything to play for to keep my place. It's fair to stay so far we've had some light wind races and I've benefited from others retiring but as they say "you need to be in it to win it!"
I was joined by Rob who is super experienced on his J105 Bigfoot ( don't ask ...still in Falmouth with a wobbly keel) but it was his first race on a Sunfast 3200. Still hopes were high he could bring some magic speed to Purple Mist.

We had a pretty hopeless start behind the fleet, only one boat was more hopeless and was shoved out the windward end of the line and had to loop back.Normally I'm good at starts so this was a bit disappointing.

It was a lovely reach out the Solent in touch with the fleet. 12kts of wind from the NW and all the fleet were sailing well so hard to catch up. We overtook Fury the other Sunfast 3200 at the Needles and were doing ok across Poole Bay.
We stayed out a bit at Anvil and St Albans to take advantage of the stronger tide and not loose the NW wind which paid off. The inshore boats did loose the wind a bit.
After St Albans it was head to wind , tacking to the end with the wind at 16kts. Bright sunshine made for a lovely sail but the boat was a bit overpowered so we struggled to make top speed. The last tack was very favourable as we had gone out towards Portland Bill and benefitted for the tide and a wind shift to almost make the final mark. Just a quick tack at the end and we were done. Weymouth in record time!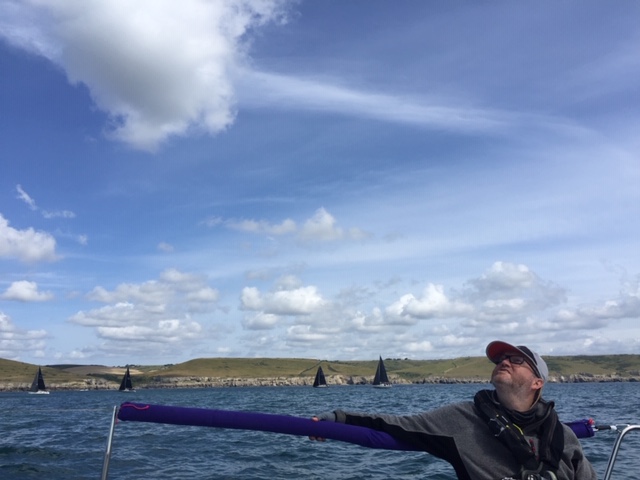 Final position was 4th in 2H so I think my 2nd overall is maintained. Only 8th from 9 boats in Class 5 was not so great but that same corrected time would have put us 3rd in Class 5.




We moored up on the Cove (South ) side in Weymouth which was a first. It's a bit quieter and nearer the Weymouth sailing club which welcomed the JOG fleet for drinks and food. I had the unexpected honour of being presented a bottle of bubbly as a well done for completing AZAB race which was very thoughtful.

Sunday was a festival to celebrate 150years of Weymouth lifeboat. There was 4 or 5 historic lifeboats at the quay fully dressed ready to make a parade of boats with the current lifeboat.




Sundays cruise back was downwind and we tried the spinnaker net I made to prevent wraps. It looks ok and would be useful in a rolly sea. On Sunday we wrapped the S2 twice gybing and then the net doesn't help as you need to take it down to gybe the symmetrical spinnaker.




So overall a very enjoyable weekend and better prepared for the next race which is Fastnet on Saturday.
---