Cruising in the BVIs
Purple Mist
Skipper: Kate Cope
Sat 11 Mar 2023 20:45
18:23.04N 64:30.098W

Cruising in the BVIs

We had the final day of the Heineken regatta and we were trying hard to get ourselves out of last place. It was our best days racing yet beating both the Dehler 30 and the Figaro 1. We had good upwind speed and downwind we made no mistakes. We probably could have done with the bigger sails on as the wind was light but we squeezed the most out of the S3 and J3. Our final overall result was 7th out of 9 boosted by a 7th on the final day.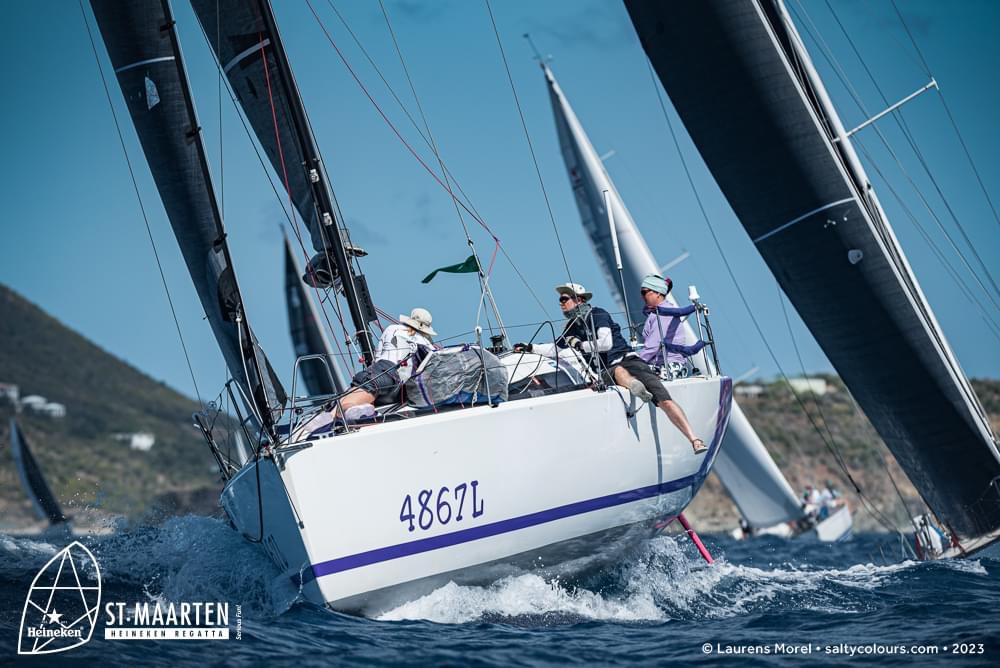 We then had a lovely day exploring the island is St Maarten/ St Martin. It's half Dutch and half French and the French half seems to be in the EU….the clue was the currency switched to Euros and the car number plates had the EU flag. Sailing round these Caribbean islands is funny as half the time you never know what country you are in. Though as long as you have mobile roaming turned off you are Ok. We went up to a couple of nice beach resorts and did a bit of shopping in the trendy boutiques.



On the final day we did a bit of logistics not least a big supermarket shop to take advantage of the well stocked Carrefour at reasonable prices. Food here in the Caribbean is so expensive.

We are now in the BVI. They are very strict about immigration here and we were not allowed to moor up without first clearing customs. You need to anchor off the immigration dock and the captain only must dingy in ….errr couple of problems there as we have no dingy and still haven't tried the anchors. So we got special permission to moor up at the ferry dock and I went inside with the papers. 6 desks later …No exaggerating…I had completed the formalities. Incredible complexity.
Next issue was all the marinas were full but we landed on our feet at the resort marina of Nanny Cay which is lovely. It has its own beach, pool, boatyard and bars and restaurants. It even has a Spa which we are eyeing up for our return visit.

Our big challenge then was to find a dingy and outboard we could borrow or hire. We literally went into every charter company and marine business at the marina asking about options and the results were the same. They had nothing only a giant rib almost the size of Purple Mist with an engine 5x the size . We would have been quicker with the rib towing Purple mist rather than the other way around.

We were on our last chance and Claire was making some progress on a dingy that was for sale that a company would loan us. We had earlier spotted Taz a boat we know from Antigua as friends are sailing on it and have sailed on it. It had the perfect little dingy and very small outboard on the deck. Their boat captain and crew were aboard doing jobs so we went to investigate a loan
Taz very kindly they agreed and "Speedy" as the dingy is called is ours to borrow for the next 2weeks. Speedy by name and speedy by nature ??? Well not really it's a 2 Hp engine which is like having a hairdryer on the back and it's a bit leaky and wet …however it's better than rowing and has so far worked very reliably to get us ashore and to snorkel spots



We have so far visited Norman Island home of the famous bar on a ship called Willy Ts. If you jump off the top deck into the sea, which we all did, you get a tattoo …temporary of course . It was quite high so quite exciting to jump off.



We are now at Cooper Island another lovely resort with lush gardens surrounding the restaurant. We met this crazy stripy beast clinging to a bush - a really huge caterpillar.


After 2 days at sea and masses of great snorkelling we were desperate for a shower to get rid of the salt. We were expecting a shower on the beach and packed our shampoo. Imagine our disappointment to find no shower , only a foot wash and a garden hose. We investigated the garden hose but couldn't switch it on.

Given we were eating in their expensive restaurant that evening, Claire begged a big bucket of water from the kitchen and the three of us snuck behind a gate that said private and started to wash our hair and bodies. Just as we were all soapy a hotel employee enquires as to how come we were showering and making a mess at the entrance to their private hotel.

Anyway suitably scrubbed up we relaxed with a rum punch and enjoyed a lovely sunset and dinner. It you look closely Purple Mist is bobbing about behind the white motorboat
---