Day 13: Ashore in Figueira
Purple Mist
Skipper: Kate Cope
Wed 28 Sep 2022 21:41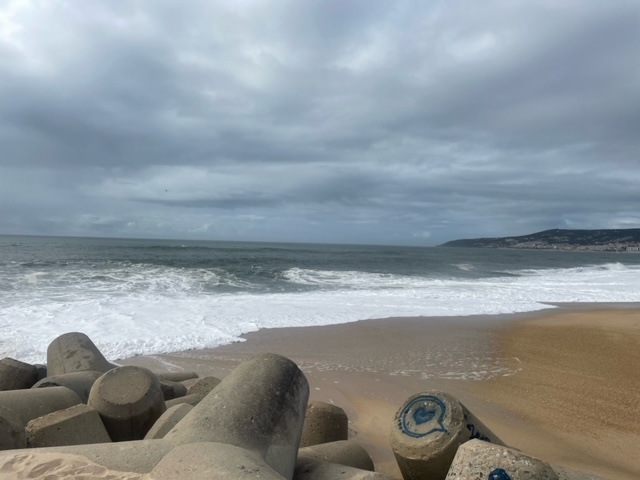 Today was spent relaxing with a few boat jobs. First was a warm shower, hair wash and scrambled eggs on bake in the oven bread for breakfast - impressive only that Purple Mist has no Oven so I've worked out how to do par baked bread in a saucepan with a foil lid.
Anyway suitably replenished we tackled some boat jobs, Rob set too removing the handheld Sat phone aerial that was corroded and I sorted out a rope cover for Reef 1 and tidying up some electrical cables.
Hans from S/Y Olliver came over with a splicing challenge as his mainsail furling line wasn't working and he needed help. I love a challenge so I dug out my splicing fids and we watched a YouTube tube video on splicing braid before fixing the rope. My reward was the use of his onboard washing machine …music to my ears after 2 weeks of sailing the chance for clean clothes.
Figueira is a nice town and we went for a walk to the beach to check out the Swell, the boat next door has not moved for a week worried about the swell and you can see why when you look at the beach - huge breaking waves.
Rob checked out some restaurants and we had a lovely Portuguese meal of monkfish and prawns tonight with a fabulous red wine.
All set for an early start and 60NM tomorrow back in Orca alley.
---