Day 3 Heineken Regatta Round the Island
Purple Mist
Skipper: Kate Cope
Sun 5 Mar 2023 11:49
Day 3 Round the Island

This island is just 30NM though so half of an Isle of Wight. We had a great start and first downwind leg in 18-20kts 140' we were flying . We had David Harding as our OBR (on board reporter) as it was Ladies day so they wanted some female content.
The rest of the fleet went the wrong way at the mark so whilst parts of our inshore racing are still an "opportunity"!!! (Ie we are not very slick yet) at least from offshore experience we know how to sail the right course.
There was some hairy moment coming into the bottom mark with 70ft Volvos either side and some aggressive (and against the rules) moves from Privateer. I was happy to survive without being squashed,
We were 8th from 9 beating the Polish Figaro again but sadly that puts us back to 9th overall. However our results don't seem to make any difference to the media interest …..one media person though we had actually won the Transat race yesterday.….as Claire would say why let facts get in the way of a good story….should we worry she works for the BBC?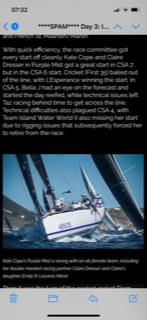 ---