Fowey
Purple Mist
Skipper: Kate Cope
Mon 27 May 2019 19:32

Well this delivery trip is turning into a West Country cruise. Feels like I'm on holiday....oooh I am on holiday . Must remember that Sailing is a leisure activity...easy to forget that.

So salcombe this morning was glorious. We had the sea cadets in front of us whistling some ceremony for the ensign raising and lowering . I followed suit so the purple penguin ensign came down at 9pm precisely and up again at 8am accompanied by the sea cadet whistles.





Then it was off west beating into a westerly breeze. A bit fresh at time with mostly 15-20kts and a few squalls of 27kts.
The tacks took us right into Plymouth breakwater so we have a look to the fastnet race finish line






This gaff rigger followed us out. To be point it was almost catching us so we trimmed on quick to stay ahead...can't be overtaken by some wooden boat from 100 years ago.





It was a long day and so at time we just chilled out .





This is the lovely harbour of Fowey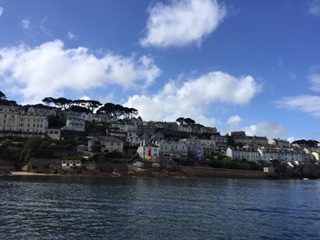 Safely tied up to a pontoon looking a bit purple


---