Cruising Mode to Phare Bleu
Purple Mist
Skipper: Kate Cope
Sun 5 Feb 2023 20:58

12:00.201N 61:43.462W

The time came to say goodbye to Port Louis and start exploring Grenada. We had been recommended Phare Bleu a small marina resort on the South coast which turned out to be lovely




It was a bit of a feisty sail there, some real upwind sailing in 20kts and against the current. A taster for our journey up to Antigua which is all going to be upwind.

Phar Bleu is a lovely spot, a small marina nestled in the palm trees with its own beach , swimming pool and beach bar. A guy came out in a dingy to help us tie up as unlike the UK it was a stern too mooring. He took 2 long lines to pre-attach underwater to something then passed them up to Claire on the bow as I reversed in.

The marina toilets and showers were on a lightship that was uncannily like the Mary Mouse at Haslar Marina. However they did have a good book swop where I picked up a cruising guide for the islands which is proved to be very useful .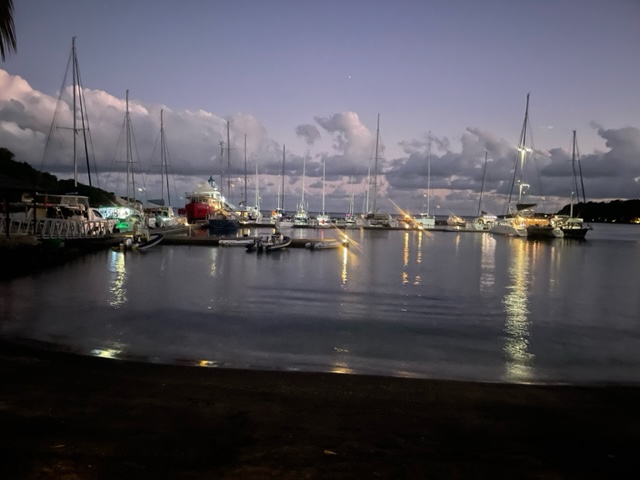 Here we chilled for 2 days enjoying some great snorkelling and good food.

It was really a bit weird to see Purple Mist amongst the palm trees and big change from her mooring in the Hamble. She is now in full cruising mode. We've set up the anchor and chain though thankfully not used it yet as I'm still unsure it will actually work. We have mosquito screens on all the hatches and either curtains inside or hatch covers to keep out the sun. I made a Bimini from an old parachute of Claire's in a very bright yellow to keep the sun off. Our power use is so low that the solar and Efoy easily keep up so no need for shore power …that's mostly as we have no fridge running.


---