RORC Autumn Series Race 3
Purple Mist
Skipper: Kate Cope
Mon 12 Oct 2020 20:01
50:47.39N 000:25.00W
Race Report: RORC Autumn 2H series – Race 3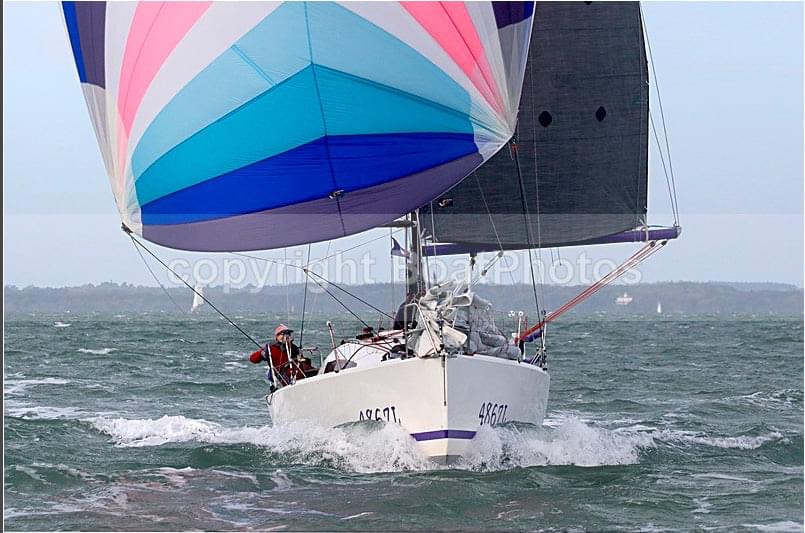 Saturday was the last of the RORC 3 race 2H series and this time Rob was joining me on board as Matt was J70 sailing. This meant a bit of a role reversal for me with Rob in my usual role of Helm/Pit and me on Bow/Pit. For the non sailors this means I would have to do all the hard work running around, balancing on the bow, connecting sails, lifting and winching whilst Rob basically sits down all day and winds the odd winch.
Weather was forecast to be strong, though not as ridiculous as 2 weeks ago. Course was downwind out the Solent, round Selsey Bill then on to a line of longitude beyond Littlehampton. Then back up wind to a buoy just off Chichester then a big round the Isle of Wight and in through the Needles to finish just off Cowes - 100NM. Start was 10:30 am Saturday and ETA was about 4am Sunday morning
Big decision was whether to fly the big Symmetric (S2) or the A5 which would be safer but less optimal as the course was dead downwind. Fortune favours the brave so they say and the last forecast showed the Solent winds to be acceptable for the S2 so we decided to "go for it!" After all if we flew the A5 we were definitely going to be DFL (Dead Fxxxing Last)
Start was suboptimal... I'm not sure how "go for the line now" was translated by the helm into "I'll just put another tack in" but it was busy as we were in amongst the big boys and girls at the favoured end of the line ... so probably more important we didn't hit anyone. S2 went up like a dream – I'd plugged it in perfectly and we were off like a train dead downwind.
This was the best bit of the race so indulge me whilst I tell you all the details. We were probably ¾ down the fleet as we crossed the start line but as we were going very deep down windwind, and very fast!. All the boats that only have asymmetric sails were left behind. Yes all those brand new 3300's yet again with 3 sails hoisted couldn't keep up with little old Purple Mist who was rocketing along. Rob was doing a really marvellous job keeping focussed on the helm, whilst I was getting a bit over excited with the progress and having to record it on Facebook and Instagram. I don't think Rob believed me when I said that in Race 2 I did no social media and I had only taken 1 photo of my hot chocolate.
Little by little the fleet was having to gybe behind us and we were making a direct line to the forts. Then the most amazing sight – it was Jangada and we were gaining on them ! Tigris was just ahead and then the lead boat Bellino – that was it... I was 4th on the water. The fleet of Sunfast 3300 were all behind broaching with their pesky extra staysails all flapping about.
Alarm bells should have been ringing when Black Sheeps Kite exploded behind us but we were in the groove. As we passed Jangada Jeremy very generously gave me a big arms up and a happy dance which I returned. We were now 3rd on the water and I would say 2nd on Handicap as Tigris was only slightly ahead. I turned to Rob and said "We really should set an upper wind limit when we will drop this Kite" Rob replied " yes as we exit the forts and the wind and waves increase I'm not sure we will hold it. What should we have then done???? Yes drop the Kite... but we decided to carry on just a bit further!
The inevitable happened, We really should have had a smaller S – like the S3 or S4 others had up but I don't have one. Also our downfall was somewhat exacerbated by my Spi Sail trim which was for max power as that is all I've ever done with a spinnaker as I've not flow spinnakers in those sort of winds before. I really should have been depowering, some great photos show the difference between Bellino Spi – pole forward and up, and mine Pole back and down max power.
The wipeout was an impressive Chines gybe, close enough to Jangada for them to look a little concerned. The pole hit the water , the clew tore off the sail and the end fitting bent. Lots of flapping. More tearing and then of course the sail says "I know I will just wrap myself round that handy forestay wire – that looks nice and safe" before you know it one holy mess of Sail, Sheets, Guys, Uphaul, Halyard . It took 20 mins or so of wrestling, yanking and untangling and even a bit of cutting to finally free it. I did suggest we might fly the A5 as I untangled but the wise one on the helm suggested we stick to untangling. The fleet of course came past us but we got the A5 hoisted before we were last.
The next legs were not quite as eventful. The A5 worked pretty well until we broached at 28kts – good job I was not on the foredeck untangling the S2. The good news was despite lots of flapping the Tylaskas with their new Neoprene sleeves stayed connected and no damage was done. I had to drop the Halyard a bit to actually recover the broach but the sail was all in one piece. Hurrah. At that point we decided to stick to white sails .....after all surfing at 13.1kts with white sails was not too shabby , the sun was shining and Littlehampton was in sight.
We had a good duel with Jazzy Jellyfish J109 that we managed to stay ahead of until they hoisted their kite again, then came the long leg upwind. Short tacking up the beach was the best way to make progress against the tide so lots and lots of winching for me. We also reefed the main and Jib as the wind was still pretty high at 17kts or so gusting 22kts. Problem was the wind would occasionally drop down and then she was underpowered it was a tough call how much sail to put up.
Selsey Bill was bouncy, wind over tide and a shallow ledge made for a wet hour or so but the sunset was marvellous. Then it was upwind to an unlit Winner buoy which we rounded in the dark and off to Bembridge Ledge. This was the point to give up and go home if you were going to and that is what Jelenko did. Isle of Wight was a bit the same as 2 weeks ago, calmer off Ventnor in the shelter of the island. The stars were amazing, no moon until after midnight but Mars was looking good. The legs were short and I was up and down at the bow swopping the jib sheets and outer lead sheets into the clew or the reefing point then swopping again as we changed our minds.
By this time were last on the water but not too far off the last of the fleet. Jazzy Jellyfish J109 was just ahead but we knew they didn't properly cross the start line – they were outside the green outer distance mark so pretty sure they would be disqualified by the race team. It was more beating in 20kts to the Needles Fairway and then a reach to the end. Yet again it was hot chocolate and Brownie at midnight at the Needles to give me energy to the end. I gathered the last of my strength and plugged in the Code Zero for the last leg but the wind was lighter than forecast and Jazzy put up a Spinnaker. We finished at 2:30am quite a bit ahead of my 4am prediction.
Final result in the Series was 6th out of 23 and 3rd mixed 2H pair which I'm pretty pleased about. Race 2 and 3 results were not as good as Race 1 but we completed them and that is what boosted our overall score.
Final Damage includes a broken Jib reef line as well as the Spi pole end fitting and Spi in 2 pieces – which the sailmaker tells me is repairable. The Mast base is still leaking despite my fix and the penguins are moaning as they are getting wet inside. Damage to me includes a very sore shoulder from all that yanking of the tangled Spi and my quads feel like I've run a half marathon... but Im happy... the moment of passing Jangada and being just behind Tigirs and Bellino will stay with me a long time.
---