Last day of Preparations
Purple Mist
Skipper: Kate Cope
Fri 31 May 2019 13:50
It's our last day and all the list of things to do is basically empty. At the point you are hoovering out the chart table then you know you are ready (hoover staying in Falmouth by the way)

It's fair to say our inspection yesterday didn't quite go as smoothly as planned. We had a number of things we needed to fix to totally comply with Cat 1

So quick trip to the Chandler's who is doing a very brisk trade at the moment to buy some fittings so we can clip on at the helm. The jackstay in the cockpit was not considered sufficient. These fittings are backed with that other great boat building material (along with yoga mat) that is plastic chopping board. Only problem was the creation of a load of gel coat crumbs in my cabin...but like having eaten toast in bed.



Another area of non compliance was our lifelines which can only have a maximum in 10cm of dyneema, British beagle had the same issue but both boats are now fixed.




The high powered diving torch was not enough to qualify as a search light so a dash to Trago mills and this handy work light is now aboard




Another think I had no clue you needed was a list of lights....so I wrote all the pertinent lights on a piece of card



Finally , hard to believe but a new Sunfast is not actually compliant with Collision regs when it comes to the lights. I was aware of this so had bought this clip on light which thankfully was accepted. I have emergency Nav lights as well.



Now we are stowing the last food, thanks to our boat buddy Judy for freezing a load of milk and juice as this will keep the cheese and ham cold for a while...then it's long life food only. I'm trying this out for the fruit to stop it bruising but as we keep banging our heads on them I'm not sure it's going to work



This is me hoovering the chart table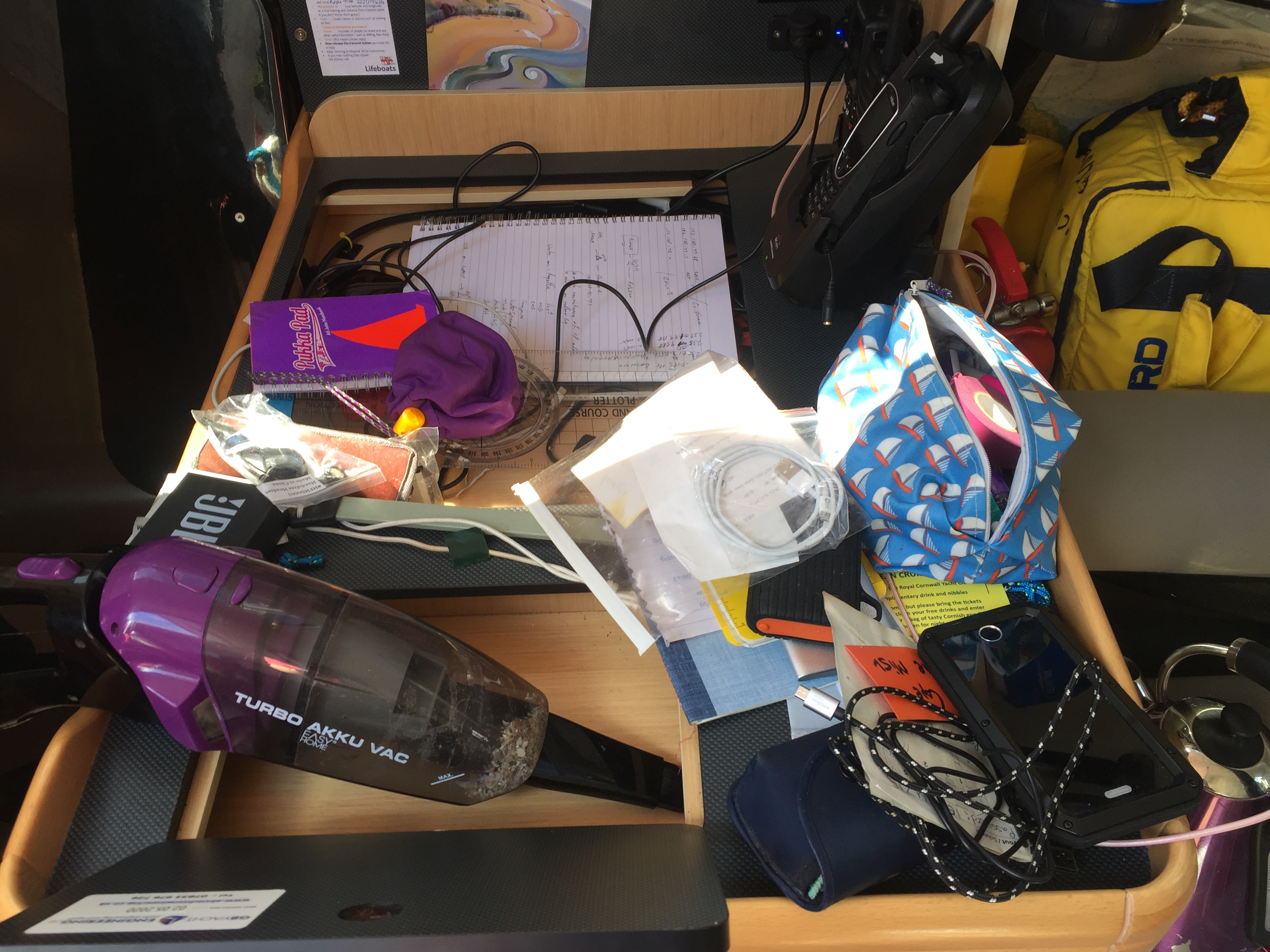 So different boats are loading different final provisions. Bigfoot looks like it will survive on a diet of water, rice and honey nut cornflakes. For those that know Bigfoot they will spend the first 4 or 5 days only eating M&S sandwiches



Charlie from Bigfoot on a bit of last minute spinnaker work.



Kuba on Polished Manx seems to be ensuring no excessive weight by removing some huge fenders.



Meanwhile earlier this morning I noticed the boat from Amble ( that is the place without the H north of Newcastle) were loading 3 cases of beer and a slab of tonics for the gin.....and they noted that was a bit dry for them 😀



Final prep on Bigfoot is testing the ensign. I'm not sure if this is an extreme weight saving measure but it looks a bit small!
---