Day minus 2: Calmness has descended
Purple Mist
Skippers: Kate Cope / Claire Dresser
Sat 7 Jan 2023 00:09
Today we were half planning to go for a sail but we first needed to wash down the mast and rigging. It was really filthy with Sahara sand and the wire rigging was starting to look a bit rusty in places. Claire volunteered to go up the rig with a bucket of soapy water (Purple Fairy liquid which I did actually invent !) and a hose pipe. Can you imagine trying to wrestle a hose pipe whilst up the mast in a bosons chair, Claire was drenched, Jeremy and I were both drenched and now and again the bucket of soapy water tipped over as well. It was only after the mast was done that we then realised the rigging needed cleaning as well so after a restorative coffee it was up again.
Claire was enjoying spraying us on the deck until she realised we held the rope that let her down. Luckily the Lanzarote sunshine dried us all out.
As always with boats jobs take longer than planned and with a special late lunch planned so we decided to stay on the dock and finish the final jobs. We cleaned up and lubricated every block and track to ensure the ropes all run smoothly.
Then our French neighbours, who seem very excited to be moored beside us , came onboard for a chat, a look round and some photos.
I'm feeling quite calm. It helps that all the jobs are now 100% complete , basically we just need to pay the marina and do some routing. I wonder should I be feeling more nervous…there are some slight nerves I guess but I know the boat is strong and basically if I thought the trip was going to be awful I wouldn't be setting off.
We then had a glamour lunch with rockstar sailor Pip Hare. It was lovely to be inspired by someone who takes on so much bigger challenges with her solo Vendee Globe campaign, it puts into perspective that our challenge is definitely achievable. She said some very nice words of support in a video which Emily will share on our social media.
It was also a chance for Pinky and Perky penguin to have a day out. Rob says you can tell my stress levels by whether I'm interacting with the penguins…they only come out when I'm relaxed. Well Pinky and Perky do love the chance to meet a rockstar sailor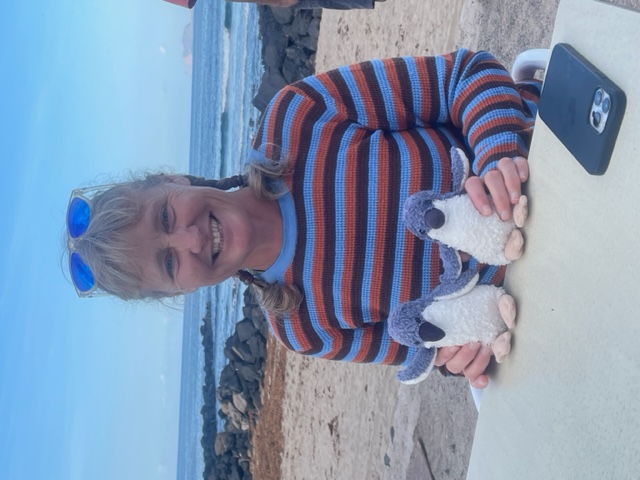 Final event of the day was a gala dinner courtesy of Calero Marinas in a stunning location . Again we got a special mention for setting the record for the first all female team. We also got a bunch of local edible goodies …we are certainly not going to starve on this trip.
Tomorrow we are off for a sail . We've decided to stay down in Puerto Calero and not move the boat up to Arrecife. If you look at the tracker we are in a different marina down the coast. It's the same marina group but the location is smaller and more friendly . You can see us on YB tracking , sadly we are not the Purple boat but pale yellow.
---