Death in Paradise: Guadeloupe
Purple Mist
Skipper: Kate Cope
Tue 14 Feb 2023 20:32

15:59.223N 61:43.890W
Death in Paradise: Guadeloupe

Today has been a day of unexpected challenges. We had had an uneventful overnight passage past St Vincent, St Lucia, Martinique and Dominica . Claire had perfected the art of beanbag sailing basically controlling everything without getting out of the beanbag. She controls the chart plotter with her toes! We were intending to stop at The Saints a lovely looking little island archipelago off Guadeloupe. Timings were good we thought and we had been promised oodles of mooring buoys in 3 different anchorage's around the islands.


When I switched the engine on it sounded a bit hollow but there was still water coming out. It's been like this a few days now and I've checked the water filter and all was ok. I have had this niggling doubt it doesn't sound right but recall on some training or another being told as long as there is some water you are Ok…. Well clearly whomever said that it doesn't apply to Purple Mist. Just as we had taken down all the sails and were looking for a buoy there was a high pitched alarm. The Engine had overheated and some ominous smoke was coming out of the exhaust. Basically Purple Mist has been trying to tell me for days there was a problem and the message hadn't hit home . Anyway we quickly whipped up the jib and Claire sailed backwards and forwards whilst I dismantled the water pump in the engine. The problem was fairly easy to spot the impeller had lost a blade so I popped a new one in and all was fixed.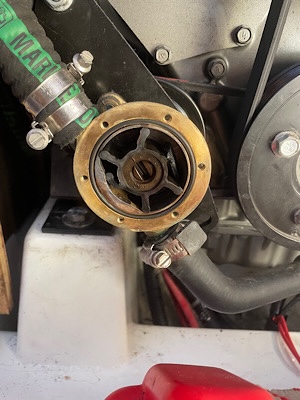 Next issue was try as hard as we could there was no free mooring buoys , it was chocker block so we headed off under the newly fixed engine to a little marina.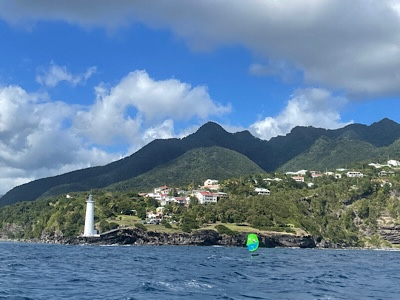 Just after we rounded this headland the engine spluttered and stopped. Claire was quick to diagnose we had some debris wrapped around the prop. We put the throttle in neutral and started the engine and it ticked over. We had the jib up and we seems to be moving through the water although very slowly. As if by magic a huge lump of line and a semi submerged pot appeared at the back of the boat and drifted away. Clever Purple Mist had unravelled herself.

Our final bad luck of the day was when the marina we were heading for finally answered the phone after numerous tries since lunch. No there was no room for my little boat. So there is no visit to Guadeloupe for us. Guadeloupe is where they film Death in Paradise …well it was nearly death of the engine twice today so it's off to Antigua for us. It's 60NM but I don't want to arrive in the dark so we will track slowly up the coast. Only bonus is it's EU roaming so we can email and Facebook to keep ourselves busy.
---