Day 19: The race that just keeps giving
Purple Mist
Skipper: Kate Cope
Sun 29 Jan 2023 21:48

13:17.988N 58:40.468W

Day 19: The race that just keeps giving

The comment I often make about RORC offshore races is they have a tendency to throw out last minute challenges. Just when you think you have 2 or 3 hrs to go something will happen ..a wind shift , a tide change or the wind dies to make the race a whole lot longer than you were just expecting. It's almost inevitable that Transat will do the same. Coupled with the fact that, those who race on Purple Mist will know, she doesn't like finishing in the dark. My coskippers laugh but try as you might she will find some excuse to go slowly until the morning…interestingly she never seems to speed up.

Anyway there we were merrily zooming along with 15-25kts of trade winds alternating between jibs and spinnakers when as of 4am GMT the wind decides to drop. This was forecast for a bit later this week but seems yet again we have been swallowed up by a hole in the wind. We are doing our best, the big S2 spinnaker is flying but boat speed is down and the pesky weed is out to slow us further . ETA was midnight GMT Saturday but looks like we are stretching to Sunday morning.
The good news is I've just heard the RORC CEO Jeremy is waiting for us at the end so we will have an arrival committee to welcome us. I'm hoping Claire has changed out of her sun protecting snoopy pyjamas before then.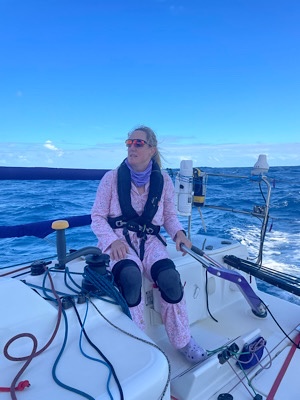 In other news we've sighted a ship, It's an exciting moment as it's only the 2nd vessel since the canaries.


Wildlife news we've had 2 more birds which thanks to your feedback we now know are tropic birds - white with a red beak and very long thin tail. One was circling the boat and we thought it was going to land on the rigging. This morning we had our biggest catch of flying fish with 4 having sneaked aboard in the night hiding around the deck being smelly.

Technical news we are getting good power output from the Solar with 2.5-3 amps when it's in full sun. This gives the EFOY fuel cell a short break, it needs it as it's now down to only 3.6amps. Still no need to run the engine though we've started it a couple of times for 30mins or so just so we know it working (We are allowed to run it in neutral for battery charging - just not engage the propellor)
Finally we have installed the USB fans in our cabins and the chart table, they run off a power bank ….these are simply amazing to help you keep cool.

---