Race Eastbourne to Cowes
Purple Mist
Skipper: Kate Cope
Mon 18 Apr 2022 21:26
50:51.169N 001:18.719W

Easter Sunday dawned and the sun was shining again. We were both perky as we had had a fairly tame evening in the yacht club then a tasty Thai meal with fellow Doublehander Will from Jaasap.

Penguins were in generous spirit as they dished out Easter Eggs to the crew .



First obstacle was the lock and back into the shallow exit channel. Here is the first part of the JOG fleet all rafted together. I was alongside fellow Sunfast 3200R2 Phoenix.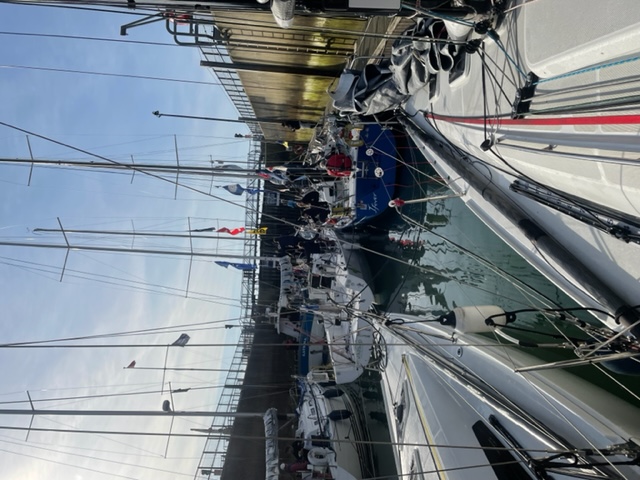 Our start was not brilliant, we went for clear air where's the inner end of the line was a shorter distance and I imagine less tide .
We popped out the code zero for the run down to Beachy Head and were doing OK , though behind some of our key competitors.

The big decision was at Beachy Head, whether to go North or South of Rampion wind farm. I thought they cast a big wind shadow but most of the fleet were not concerned and went North to get out of the tide . Our big mistake was to head off South with a small few others. A fellow sailor has a mantra "Don't be a prat, follow the pack". We knew it was high risk ..and it wasn't to pay off.

Anyway sun was shining and it was going to be a long day as the wind was going to die just as the tide turned against us about 6pm . So we settled into helming and trimming fortified by some cold non alcoholic beer along with Lunch.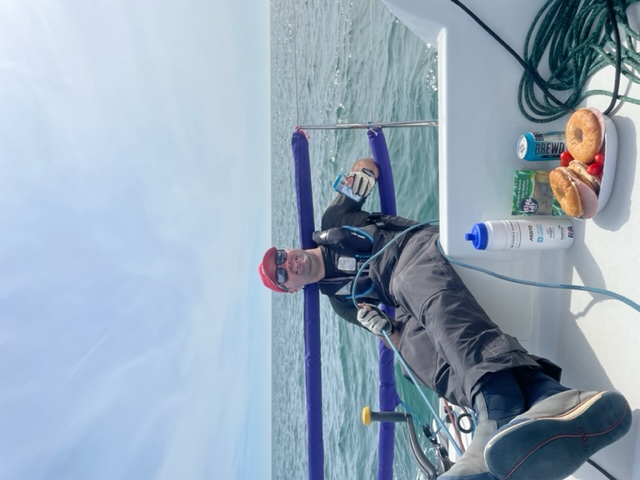 We past Rampion quite close in and it seemed like the wind was lighter though I think it was just slackening all over the course . Anyway S2 was flying nicely and we were moving along.



As we came into Owers about 4pm the magnitude of our routing choice became painfully clear. We were miles off the pace and out on our own. I re-ran expedition for help on where to go but really we just had to follow what little wind there was . On the plus side as we had nothing to loose I did my first singlehanded Symmetric gybe with Sam asleep.

Eventually the Wind came around and we dropped the S2. Sam had help from a furry friend packing it away. ..we wondered whether this disqualified us from Doublehanded?



The next leg was really slow and we were all alone, the tide turned and we were creeping past Nab Tower and the Portsmouth big ship channel. I sometimes wonder what these big ships and pilots must think to see us bobbing about at 1.5kts .

Anyway never give up is the Purple Mist motto so we battled on, tucking into Bembridge to escape the tide.

As we came up to No man's land fort we had to put the S2 up again as the wind went back to SE. We have about 2.5kts of boat speed and I knew as soon as we got into the deeper water between the forts there would be more tide against us. ..potentially even 2.5 kts!
The idea was to give the fort some room but as you see from the shot I needed to give them even more room. We executed a neat peel to the code zero but then lost the wind , drifted backwards at what seemed an alarming rate towards the huge fort . Which way to steer when you are travelling backwards into a giant fort? Anyway slowly we crept forward and finally escaped the clutches of the fort. To add insult to injury a much much lower rated boat overtook us as we were floundering.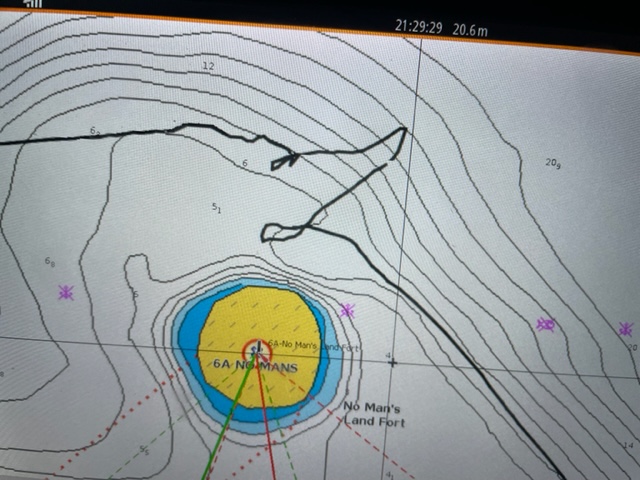 The final solent leg was slow, we sat off Ryde sands for what felt like hours travelling at 0.5 kts . Oh well at least we were not aground on the sands like the charter boat that was sat there. We played a few tunes to cheer ourselves up and keep our strength for the final hours.

The wind did eventually build, of course it was coming from the direction we needed to go so we were then tacking to the end. Finally crossed the line just before midnight. Third in Doublehanded sounds a great result but there was only 3 boats in the class!

Well done to the winners!
---