It's slow but it's sunny
Purple Mist
Skipper: Kate Cope
Sun 9 Jun 2019 17:34
38:11.455N 25:32.171W

Well the island of Sao Miguel is getting bigger and bigger. We could see from about 50NM out as the volcanos are so tall. This is a lot further than you can see the Isle of Wight so we had to be careful not to be lulled into a sense we were closer than we are.

So our plan is to go West of the island as it's a NW breeze and the secret French data Deb gave us before the race suggests this is the best way. Congratulations to fellow Sunfast Zephryin, who also went West, for winning the Sunfast 3200 mini challenge....and winning class 2 if my data is correct. He probably had the secret French sailing info too. I'm now hoping for some katabatic wind tonight roaring down the land to help us finish.

Sailing is slow but we are moving, at 3-4kts in 5-6kts of wind it's respectable, unlike the Jog Cherbourg Easter race where we went backwards for 8hrs . Sun is out though It's surprisingly cool I'm still wearing 2 sets of thermals and leggings but thankfully the soggy oilies are not required. It's probably a blessing as my legs are so bruised that shorts would be a bit frightening for Bobby.
Code Zero is doing a marvellous job, almost deserves the best sail on the boat award for good behaviour but that would be unfair to the J4. The A5 however is still on the naughty step, still wet and slowly dripping water into the bilge.

Sorry to hear Boogie nights has been dismasted , her skipper Jayne threw down the challenge of the great Atlantic bake-off and whilst I have the stuff onboard it might need to get baked in the Marina as I'm on constant sail trim now. ....as well as blogging but those two activities are possible at the same time ...I am a girl after all.

Still waiting for the whales to show up.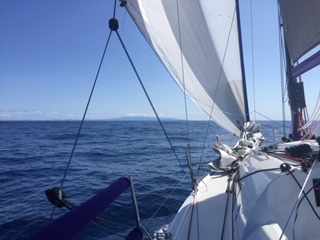 ---