Lagos

Journeys of Aardvarc
Ed
Mon 13 Aug 2012 15:34
37:06.6N 08:40.4W

We have finally arrived at our destination ( for now anyway) on the Algarve.

After our overnight anchorage


we set off for Sines ( pronounced Cinch) and it was that easy to get there...

A small local town with friendly people. We cycled around and had some tasty Squid Feijoada, and fresh sardines.

Richard had some cheese made from used milk ( or rather ewes milk...a very old joke based around his old geography essays)




The castle that you see is where Vasco da Gama was born.




Sines harbour

After eating we went to a local gathering with folk music and cheap snacks and drinks.
Mohitos at 2.5 euros a go...
I was a bit vulnerable after one of those and persuaded by a charming young man to buy a signed photo of Eusebio ( he promises me that
this famous footballer my pass on soon and that it will be worth lots....mmmm...not so sure, however , I felt sorry for him.)

So if any of you are 1966 World cup football fans and would like it, let me know.

Was it the Mohitos, or perhaps the used cheese, but sadly Rich woke yesterday morning with Vasco da Gama's revenge and
spent the day confined to his bunk, apart from occasional visits to the sink and the heads...

At one point he actually said to me..."can't you keep the boat from rolling around" ...now where have I heard that before?

We had a brief dolphin encounter, wonderful as always



My medical kit came in handy and he slept most of the way. I offered to anchor off in a sheltered bay but the favoured option was to continue the 75 mile journey round Cape St Vincent to Lagos. ( the cape is the most southwesterly tip of europe)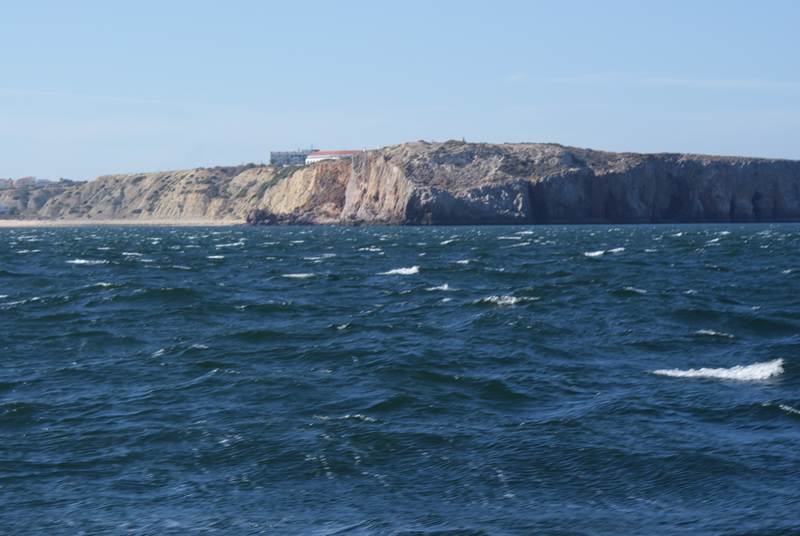 The cape is spectacular and the sea was fine most of the way, but as usual in the evening the northerly wind piped up to 25-30 knots.




We arrived about 7 ish and having sorted the boat off set off to find something bland to eat.
Garlic bread was all Rich could manage but we had a great view of the TV and the Olympic closing ceremony.


---