Bali : Guest blog by Nathalie

Journeys of Aardvarc
Ed
Sun 14 Sep 2008 03:42
I'm used to looking at this blog with a crowd of colleagues around me in the office and now I'm in it in BALI! Hello M&C if you can see this.
We've done so much since we've been here so I'll try to sum up a few of the lasting memories of this gorgeous place…
Firstly, the thing I will remember the most is the Balinese people. I have never come across a group of people who are so polite, friendly, generous and they smile ALL THE TIME! It's a big contrast to the UK and I'm going back there in a few days. The smiles of Bali are infectious so I expect I'll get a few funny looks when I get off the plane at Heathrow and I'm still gurning…
Balinese dancing (and the dancers' cheeky faces), offerings in the street, Nasi Goreng and all the gorgeous food here, confusing money, Frangipani trees, generous measures of alcohol, "TRANSPORT!" being yelled from every corner, the sunshine, Wayan our enthusiastic tour guide who says 'exactly' before most sentences, Balinese lounge singers singing 80s power ballad classics at every opportunity!… just a few more things not to forget about the island.
We're staying at the Hyatt in Sanur which feels like a palace but without any stiffness. Beautiful gardens, two sparkling swimming pools, coconuts, flower garlands on arrival and lovely lovely staff.
Lastly, it's been a holiday to treasure as we now feel like surrogate members of the Into the Blue World Arc team-thank you to Bob and Sam, I hope you WIN! Everyone taking part has been so welcoming to Charlotte and I and it's been an amazing opportunity to meet Dad on the other side of the world during the biggest adventure of his life. Here's to many more -wish I could hide in the cabin! Love Nathalie. x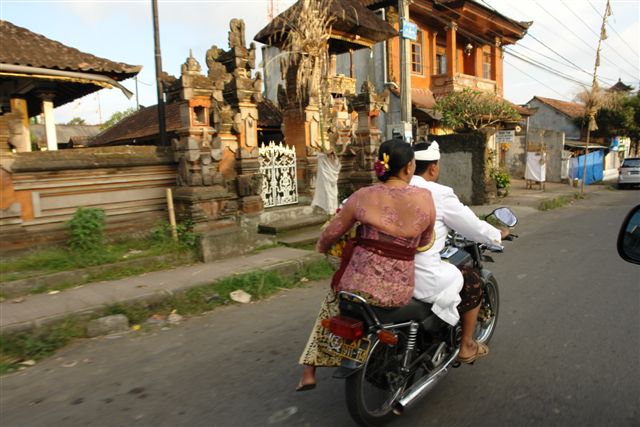 ---