Marrakech

Journeys of Aardvarc
Ed
Sun 28 Oct 2012 22:45
MARRAKECH….the 1st time!
Our taxi driver from last night (Aziz) picked us up from the marina entrance at 9am – 1st team was Ed & I (to get in the queue for the tickets), he then returned for Bob & Diana. There are 2 types of taxis here; petit taxis (fiat puntos) – used mainly for short journeys, taking a maximum of 3 passengers (makes life difficult for the 4 of us!) & grand taxis (Mercedes) used for longer journeys & seem to have no restriction on the number of passengers! We had no problem in booking our tickets at the station & wandered why we had to arrive so early to book them over a coffee in the café across the street from the station.
The "Marrakech Express" finally arrived approximately 1 hour late


– but we had reserved seats in 1st class (only about £5 more expensive), so we weren't too bothered! We had a compartment & were joined by a lovely girl called Hanane, who shared our egg sandwiches (yes! A very British day out!) & told us of places to visit & food to eat in Marrakech.


We also found out that Friday is Eid ul-Ahda – a festival which is a reminder of Ibrahim's willingness to sacrifice his son Ishmael in obedience to a command from God – so a lot of the locals would be travelling back to their homes for the holiday & explained the crowded nature & lateness of our train. We also found out that every family would be purchasing & sacrificing a sheep in celebration for the festival – resulting in the death of 6 million of our woolly friends across the country – horrible, but bbq galore!

The journey should have taken just over 4 hours, but due to the holiday delay we arrived in Marrakech at around 4pm & got a taxi to the Medina to our Riad, Dar Hani. Everyone seemed a bit concerned as we entered the souk on foot – the alleys were dark & dirty & I think the rest of the gang were a bit concerned about what we had arranged! Having visited Marrakech before, I remember feeling the same the when I first arrived; "where the HELL am I going?!" and then to have a dark door opened to an amazing home, lit by daylight of the courtyard, with luxurious rooms – what an experience…..Riad Dar Hani did not fail!

After a quick shower (or dip in the plunge pool for Ed) we set out for Jemaa-al-Fna, the main square, through the market. We wandered around the souk & the square – taking in the sights & sounds & getting Ed's glasses fixed & finally ended up in Marrakchi restaurant. We had a Moroccan mezze for dinner, with plenty of wine & music……fabulous! Upon our return to the riad we discovered that the market had closed at 9pm & we had to find a detour around the souk to get back home – when we finally admitted we were lost we were approached by a lad who offered to guide us home, which was appreciated. However, upon arriving at our riad we offered him 20 dirhams for his help only to be asked for twice that much & we were then accosted by his older friend who had followed us & told us that we weren't offering enough money for his guidance & we should give him double……so far we had only met genuine, helpful people – so it was a shame to feel that we were being taken advantage of, but this was the only experience of this we had felt up to now & it did get us home!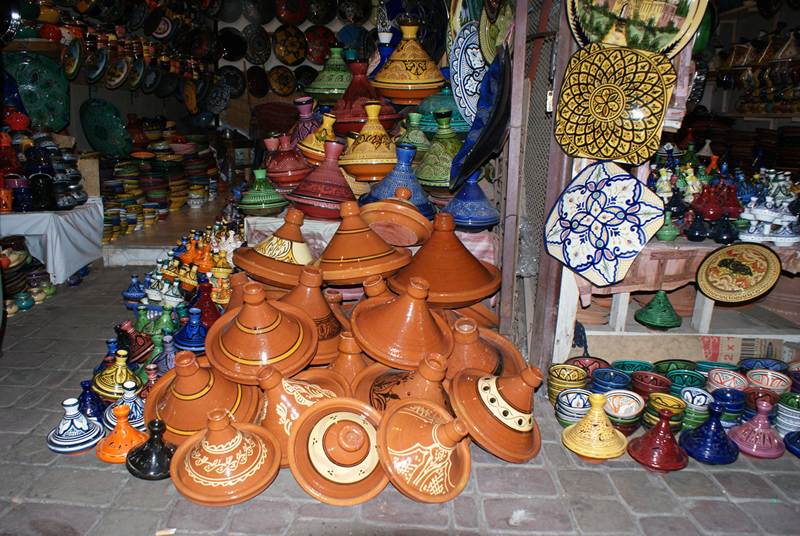 ---