Marrakech – Ouarzazate – Zagora & back!

Journeys of Aardvarc
Ed
Tue 30 Oct 2012 10:36
30:13.9N 05:44.8W Zagora

We got up at 6.30am in readiness for a 7am breakfast & then a quick walk through the medina (finding our way this time) to the main road where we met our driver, Achmed,  in an Ssangyong air-conditioned 7-seater……a far cry from my previous experience of travelling around Morocco on a local bus, happy days!
We drove into the Atlas Mountains, stopping for coffee & to take in the amazing views as we climbed higher. I even got into the coffee, which is quite unusual for me, so it must be good! There are lots of stalls at the side of the road selling fossils & brightly coloured quartz which our guide told us the locals dye in order to make it more attractive to the tourists…..it worked, we now have 3 rocks in blue, purple & red to get home. We also tried the prickly pear fruit, which is surprisingly tasty. Our next stop was a women's co-operative where they use argan kernels to make beauty products, cooking oil & honey – again we parted with cash for some local produce.


Our last stop before lunch was at the peak of Tizi-n-Ticha (2260m) where we had a fun exchange with a shop-keeper who insisted on getting me prepped for the desert.


Around 2pm we arrived in Ouarzazate for lunch of tagines & couscous next to the Kasbah, were Ed picked up an outfit for the wedding! Ouarzazate is home to the world's largest film studio (by acreage): Atlas Studios. Films that have been shot here include Lawrence of Arabia, The Living Daylights, The Mummy & Gladiator.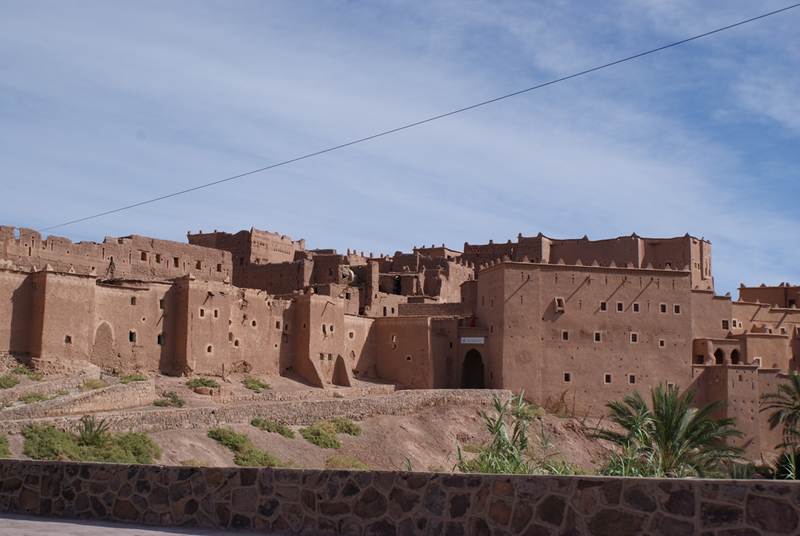 After lunch things got a bit interesting……we were clearly on a deadline to get to Zagora before the sun went down & Achmed turned from calm, well-mannered, chatty tour guide into a serious & determined racing driver! Driving in Morocco in general is an experience, especially along the windy roads in the mountains with sheer drops, where cars/buses/lorries are unable to decide which side of the road to drive on, so the car went silent as we all gripped our seatbelts & protested that it really was totally fine if we were a little bit late! At one point earlier in the day we had only just missed a coach that was driving in the middle of the road & were lucky to not be in a ditch. We finally arrived in Zagora, slightly high on adrenaline & laughing nervously, just as the sun was going down & our camels were there waiting for us.

Unfortunately, due to the time of year, our 1.5hr camel trek into the desert was completed mainly in the dark. The camels trekked in a line of 4 – Diana led (on a very wide camel that reminded us of a Norman Thelwell cartoon), followed by me, Bob & with Ed bringing up the rear making loads of naff jokes about forgetting to bring the Gold , Myrrh and Frankenstein.........oh dear! We arrived at the Berber camp around 7.30pm just in time for some traditional music (we all had a go) & chicken tagine, most of which I fed to the Berber cats! The tents were cozy – all of us in one together - & the sound of the wind blowing the sand against the tent was just like rain, reminding us all of camping in the UK!


Despite the itchy blankets & barking foxes we managed to quite a good night's sleep & were up at 5.30 to watch the sunrise over the Sahara & by 7am we had mounted our camels (Diana looking much more comfortable on a thinner one!) & were heading back to the town, but this time we got to see the desert……absolutely amazing, the landscape & colours changed every few minutes as the sun got higher, breathtaking & worth the madness of the day before. Our main memories will be of the camels; they were lovely, gentle creatures but left us all with bruises or injuries as a reminder :)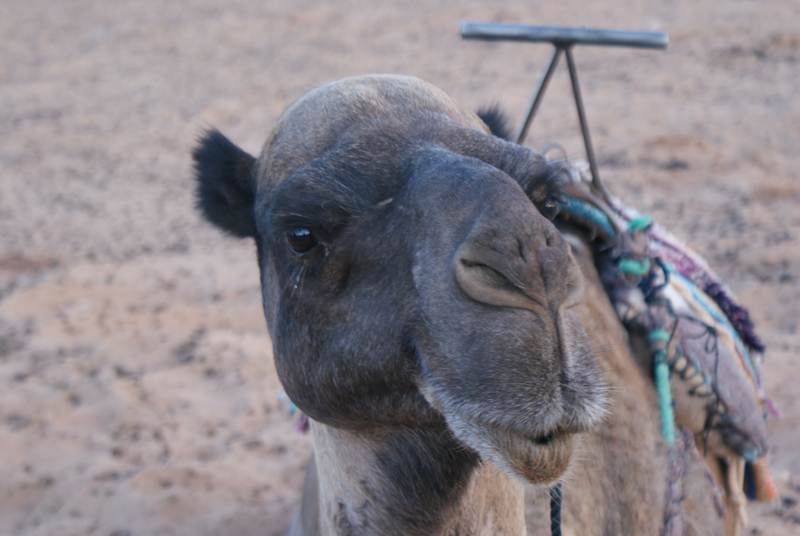 Our drive back to Marrakech was much quicker (downhill apparently!) – it was also helped that the roads were clearer due to it being Eid. Prayers are held outside, so in every village there were men in their best white djellabas, kneeling in large groups (the women sitting in groups further back in much brighter outfits) not far from the roadside or wandering the streets – it was interesting to see.
Then they all went off to sacrifice their sheep……which we got glances of as we drove through the villages - whilst I understand that this is tradition, I did find it quite upsetting & spent a lot of the time examining my hands in detail to avoid the carnage. The scenery we passed through was fascinating (I hope the photos show this); between Zagora & Marrakech the landscape changed on so many occasions from high mountain passes, with snow on the peaks, to long lush valleys filled with date palms, to desert scrub land surrounded by high ridges…..the only disappointing view was just outside a rubbish dump where plastic bags were escaping into the countryside (recycle your bags, kids!!). If you ever get the opportunity to drive across Morocco then do, it really is an experience that we would recommend - just don't forget your stugeron!

---