Fes

Journeys of Aardvarc
Ed
Tue 13 Nov 2012 12:11
34:02.2N 04:59.9W



Still stuck in Mohammedia! We have been receiving daily updates from Bruce the weatherman, advising us that the wind is still in an unfavourable direction, with lots of thunderstorms, & that the best thing to do is to wait out the weekend before setting off. We had decided at this point, having been in Morocco for 10 days, that when leaving Mohammedia we would head straight for Porto Santo (the small island off the NE coast of Madeira) rather than heading down the Moroccan coast. This is a shame, because it would mean that we would miss out the coastal towns that we had originally planned to visit (El Jadida, Safi & Essaouira), but we hadn't wasted our time in Mohammedia; visiting Marrakech, Zagora, Casablanca & Rabat – with another trip planned to Fes over the weekend.

We spent Friday faffing……a particular favourite pastime of ours. Bob & Diana walked into town to get our train tickets for Fes & to find a restaurant that serves wine (a must!) while Ed & I hunted down a local hammam. It wasn't quite the experience we had hoped & in hindsight we should probably have headed for one of the more touristy spa type places in Casablanca, but eager for some local culture we pressed on & ended up with a scrub down in a vaguely warm sauna – quite a laugh upon reflection & we have promised ourselves a spa treat before the end of the trip to make up for it. Friday night was dinner in a nice local restaurant du Parc & another early night.

Back at La Gare Mohammedia on Saturday morning to catch our train to Fes – another 4.5hr journey, but this time heading north. We had another Hogwarts express style carriage & a packed lunch & settled in for the journey.

Arriving at the station (90mins late!) we were picked up by our transfer & taken to the outskirts of the medina for our short walk to our accommodation & spent Saturday afternoon enjoying our beautiful surroundings in Dar Roumana.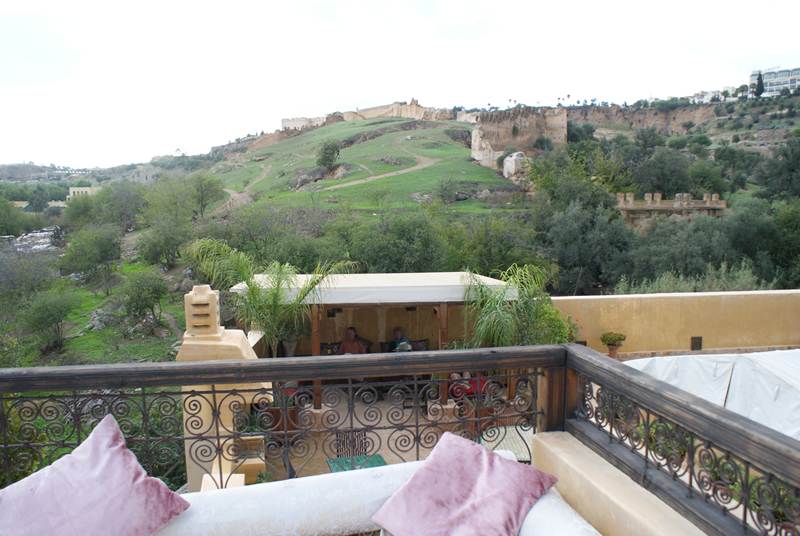 After a snooze, we were guided through the medina to Dar Hatim for dinner – the restaurant is run by a lovely couple called Fouad & Karima (I think!) in their family home serving beautifully cooked traditional Moroccan fare. I would recommend this place to anyone who visits Fes for a welcoming & unique experience – just don't fill up on the exquisite first course of salads, save some room for the delicious main (we had the lamb – thought we should try to help clear up the surplus after Eid!) & remember to take your own wine. Upon return to the Dar we joined a group who were having dinner there for a small digestif – finding ourselves in the company of the owner of the Clock Café (a tripadvisor favourite), a Lonely Planet travel writer & retired teacher who grew up in Broad Hempston, 3 miles down the road from home!
After a restful night in our luxurious surroundings we awoke (only slightly fuzzy around the edges) ready to tackle the medina, which is HUGE, the largest in Morocco. It is a UNESCO World Heritage Site & has 400,000 inhabitants & 9600 streets & alleys, highly increasing our chances of getting lost, so we decided to hire a guide to show us around & Elhakim arrived to pick us up at 9.30am. This was the best decision we could have made; Elhakim is knowledgeable, interesting & funny – I would recommend him to anyone visiting Fes & have his details should you need them.

We started out tour at the Bab Bou Jeloud, "The Blue Gate" of Fez & headed downhill into the medina. First we visited the Bou Inania Madrasa & the Dar al-Magana (clockhouse), we saw the local baker (who cooks everyone's bread), saw the oldest university in the world, al-Karaouine, built in 859 pre-dating Oxford, Paris & Bologna. We visited a traditional weaver & the tomb of Moulay Idriss II – but just wandering the little streets & passages watching the day-to-day life was amazing, such a pleasant assault on all of the senses. We began to realise that you really needed to spend more than 24 hours in Fes & I am eager to return at a later date.

Our last stop before lunch, & the highlight for me, was the famous Fes Tannery. We entered a little doorway & headed up some steep stairs, being presented with a bunch of mint at the top to hold to our noses – the smell is quite overwhelming! At the top of this narrow staircase we found ourselves in the largest leather shop I have ever seen – packed to the rafters with bags, purses, coats, poofs, shoes……then onto the terrace to overlook the tannery itself & see the activity which hasn't changed since the 11th century. After initial drying out, the hides are first soaked in diluted acidic pigeon poo to make them softer & more malleable (the white vats) & are then moved to the brown vats containing natural dyes, such as poppy flower (red), mint (green) & saffron (yellow). The skins are left in the dying vats for around 1 week with the workers climbing into the vats daily to knead the material with their bare feet & then they are laid out around the tannery & on the local hillside to dry before being made into the goods that we found ourselves surrounded by. The pictures here will not do this justice; it really is an astounding sight, an absolute must see!



Sadly our time in Fes was only short (please do plan at least a few days here if you visit) & after a local lunch of "Fes Burger" accompanied by some local music & lots of local cats we arrived back at the train station, once again climbing aboard the Marrakech Express (yeah, right!!!) in the direction of home & hopefully off into the Atlantic in the next few days!

---