Rabat

Journeys of Aardvarc
Ed
Tue 6 Nov 2012 08:33
Happy Halloween! The marina has been really full the past few days with people sheltering from the bad weather, so yesterday we decided that we should suggest a "party" for Wednesday evening in order to lift spirits & get everyone together. By the time we had walked the pontoon in the morning we discovered that everyone else had had the same idea, including Ahmed the mariniero…..splendid!
More tying up of the boats due to the terrible weather, ropes back & forth across the marina. There are several other yachts tied up next to us & we are all tied up to other boats on opposite pontoons – it's like an elaborate spider's web! Bob & Diana watched one skipper throw a rope, complete with monkey's fist, a number of times to a German boat on the other pontoon only for it to continuously end up in the drink. Our skipper arrived, took the rope & threw it over with immediate success……that's my Daz!!
In order to celebrate the day of the Great Pumpkin (I believe you, Linus) we headed into town to look out for some orange t-shirts, planning to hit the party with a theme – complete with SY Aardvarc on the back!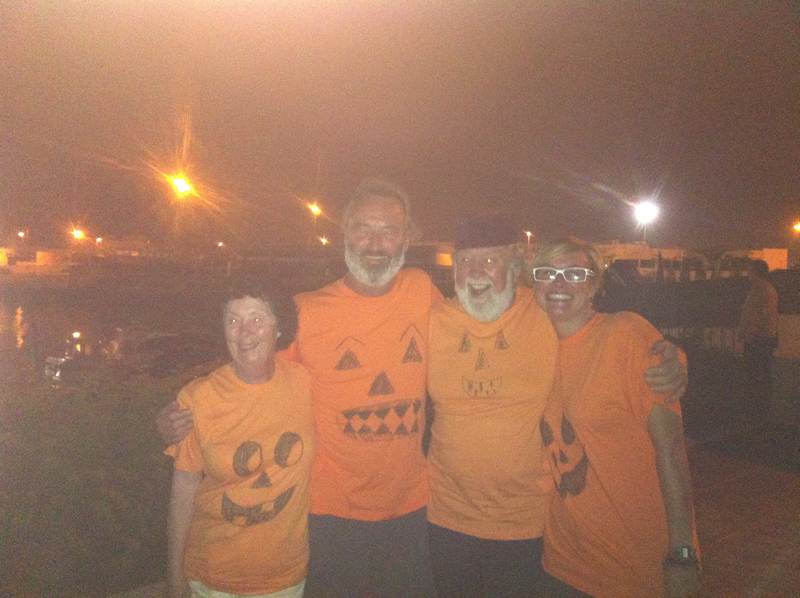 I think everyone else thought we were a bit mental, but it was lovely to get everyone together, share some wine & shelter from (more) torrential rain. Helen & Bugs from Oz, who have been sailing for 7 years – Harry & Piers sailing across the Atlantic together, having only met last week – a couple of adrenaline junkie German brothers & their crazy father – a French delivery crew from 2 huge catamarans – a handful of local boat owners & our lovely friend the Mariniero (who got plenty of praise for organising) - it was a great mix! Food was lacking (apart from the pizza provided by our boat, which was devoured immediately & Helen's fabulous guacamole), but the wine was flowing – Ed, Bob & Diana headed off around midnight but I partied until the wee hours, finally staggering back to the boat around 3.30am!
An early start (hard work for me!) on Thursday to head to the Morrocan capital of Rabat. We caught a couple of petit taxis to the station & jumped on the double-decker train. Sadly there were no seats upstairs so we had to find separate seats downstairs for the 40 minute trip north. Rabat is very different to the other cities we have visited; it has huge boulevards (with lots of pigeons to chase) & has a very European feel.

I had done a little bit of research on places to visit & restaurants & completely by accident we walked past Le Grand Comptoir – one of the best restaurants in the city, according to trip advisor! It didn't fail – we had fabulous French black pudding to share & I had a perfectly cooked fillet steak………Nathalie, we need you here to help us write a food blog!
After lunch we jumped on the metro heading over to Sale to have a mooch around the medina, passing La Tour Hassan.

In general the Kasbah was pretty unexciting, but the walls & entry gate were beautiful.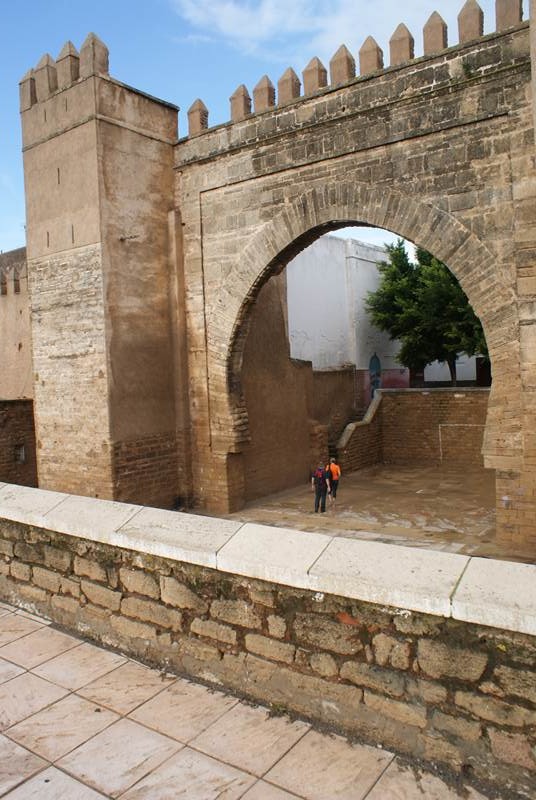 Unfortunately, one of our gang was struck down with the "Revenge of Rabat" so we hunted down a pharmacy for imodium. The pharmacist handed over the correct medication, followed by a plastic bag "just in case the pills don't work" Bob piped up!! We also discovered that a lot of the trees lining the streets are green pepper trees & grabbed a clump for future stews!

From this side of the river Bou Regreg (Big Reg River??) we got a glimpse of the marina which looked great & it was a shame that we were unable to get into here due to the swell, but had heard that leaving could be just as tricky so we might have been a bit stuck once we got here!
Jumping in a taxi we headed to Kasbah des Oudaias, not quite sure what to expect (having been unable to read up too much) but found the most amazing residential medina with narrow streets & whitewashed houses (very Greek!) & powerful views over the sea & river – a reminder of why we were unable to enter the marina a week ago!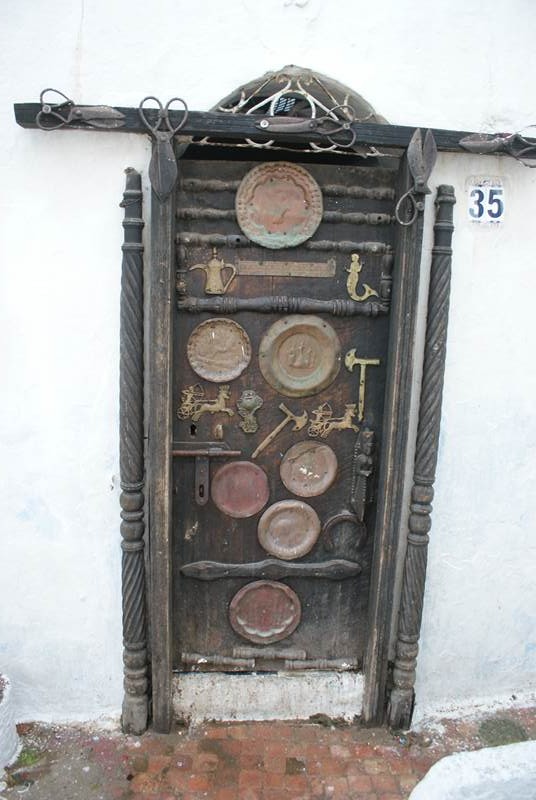 We were guided around the Kasbah by a guy who had attached himself to us once we alighted our cab……he was actually a great guide & I'm not sure we would have found our way around without him, but once again we were subject to the "Moroccan local guide principal"; I will show you around without your consent & then when you offer a tip for this service, that I was never asked to provide, I will be insulted & request double………hilarious!
We ambled into the souk, which was quite similar to Marrakech but without the constant hassle & coming out the other side jumped back on the tram to the station. Train travel really seems to be the way to get around Morocco – but you have to expect the train to be, at least, 30 minutes late…….even when leaving from a terminus station!! Don't expect to rush anywhere……….but when you do get there you will be very pleasantly surprised.
---