Guest blog by Rob Drohan

Journeys of Aardvarc
Ed
Wed 21 Jan 2009 20:44
Wednesday 21st January 2009
St Helena has lived up to it's reputation as a remote outstation of the Western world. There has been no local mention of the inauguration of Barack Obama yesterday – life here centred on the departure yesterday of RMS St Helena and the imminent arrival of the Cruise ship 'Aurora', tomorrow. The former is the lifeline for the community here, and the latter a welcome opportunity to receive tourists and their spending power.
So, having been on the island for 3 days now, we have soon learned the priorities – on the first day of the new world order, we sought out the most remote restaurant in the centre of the countryside of St Helena for a leisurely lunch, with no politics on the menu.
Farm Lodge is at the end of a series of unmarked lanes and was only found on the third attempt after seeking four lots of directions. Perseverance paid though, for when we did arrive we found the counterpoint to Longwood House – here was a time capsule of Englishness, as our antidote to the Napoleonic experiences of yesterday. An establishment so remote, they only start preparing a meal once guests arrive, (since many never make it), but that gives welcome time for a tour of the gardens and the farmyard before eating. Coffee trees, jacaranda, and a magnificent bougainvillea intertwined a Yew tree all proved delightful sights. The sheep and varieties of duck and fowl provided evidence of the determination of our hosts to be as self sufficient as possible. Stephen Biggs and Moira gave us a delightful meal and a memorable experience by relating details of how they have developed the site over the 15 years they have been there, and how they have brought an English Country House environment (including the only Rolls Royce on the island) to this South Atlantic haven.
Ed, our chief victualler, did not miss the opportunity to secure fresh supplies for our next leg to South America – we left with freshly dug potatoes, guinea fowl eggs, parsley and cabbage, plus a some of the home grown coffee beans bought by Colin and I.
Our spirits have been raised by the success of our first day of the new political order, and we only hope that the wider world can enjoy such simple progress.
View the photos to appreciate the lifestyle of Farm Lodge, St Helena.
Inspired by the good fortune to have found such a lunch venue, and feeling the need to work-off some of the calories consumed, I decided that a late afternoon ascent of Jacobs Ladder was timely. With cloud cover and a little light rain, conditions were favourable. The fact that Sam had done the climb the day before did inject the necessary competitive element. I am pleased to say that I ascended in a number of minutes similar to Sam. Both involved numbers 1 and 2, but Sam's were in that order, 12, and mine wobbled (like my knees) and came out as 21.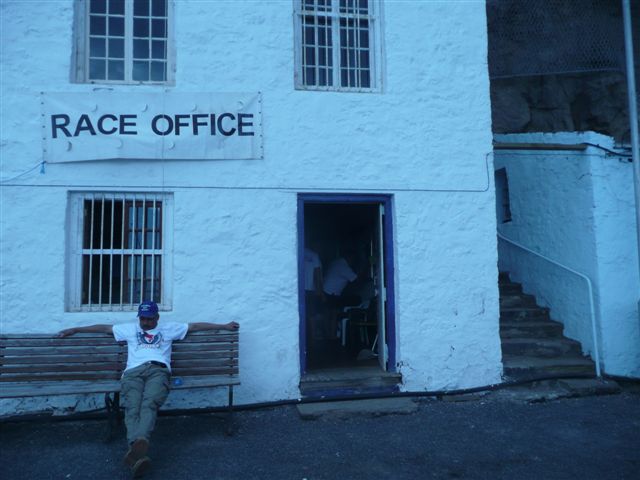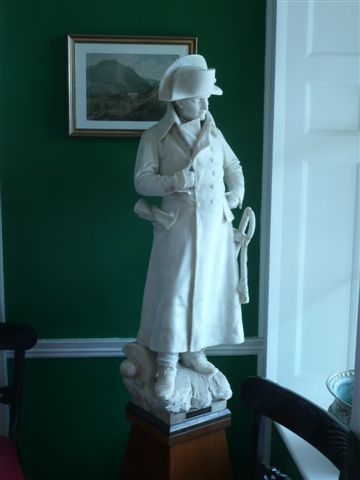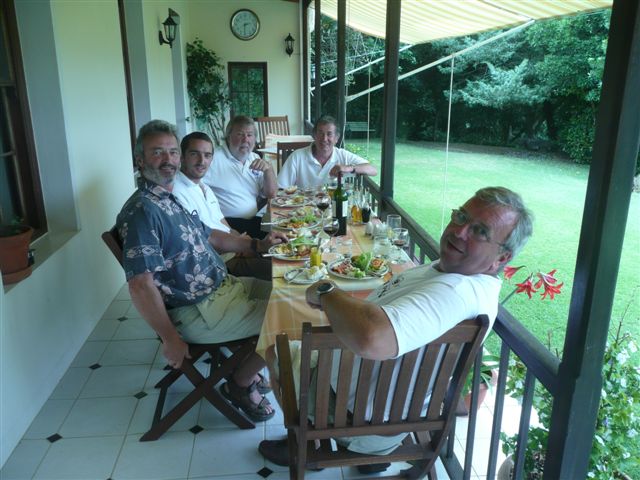 ---