Marrakech – Part Deux

Journeys of Aardvarc
Ed
Tue 30 Oct 2012 12:36
Achmed showed us to our new riad upon our return to Marrakech: Dar el Souk……this was on the south side of the medina, opposite to where we had stayed before. It was just as beautiful & individual as the Dar Hani, not down quite so many dark alleys, but past an interesting shop that was selling clothing made out of old tyres…..


Local dentist....say aaarrrggghhh!

After a quick spruce we headed to the roof terrace to enjoy a bottle of vino tinto & decide what the plan should be for the evening. While we were on the train Hanane had recommended a number of restaurants, so we thought it would be nice to go to one of those……we chose the Jad Mahal in the new town & after having a quick mooch in the souk we jumped in a cab. Unbeknownst to us the Jad Mahal is one of the most exclusive restaurants in Marrakech – it is "guarded" by two 6ft+ blokes in fez's & you have to walk through a metal detector to get in. The restaurant was very dark & luxurious, centred around a lush courtyard – we were one of the 1st groups to arrive & settled in the bar for pre-dinner cocktails, I can recommend the strawberry mojito! After being shown to our table we ordered some delicious food & wine (Ed & Bob had the Moroccan version of a hotpot, Diana had the sole & I had that very traditional dish of sushi), then the floor show started! Ladies with trays of candles on their heads danced around the tables, followed by about 20 belly dancers……some of them didn't quite have qualifying bellies as far as I was concerned – but they were really good fun!
Finally a little lie in, after lots of dawn starts, & a wonderful breakfast of pancakes & pomegranate at the riad – then we hit the souks for bargains & souvenirs. We were witness to a scuffle in the main square, 2 locals getting down to a right old fist-fight…..we think one of them had been caught for stealing & he was carted out the back, probably for a good-kicking. It would definitely put you off if you had any thoughts about pilfering. I was eager to bring home a leather poof & finally found the one I wanted on the outskirts of the market. The guy offered it to me for a ridiculous price & we bartered a little before I walked away……we then formulated a plan & went back for another go; Ed, Bob & Diana hassled me to hurry up as we had a train to catch (not entirely untrue) & for me to say I only had 400dirhams left as I was going home & hopefully he would come down in price. The dramatics worked & I left with what I wanted – hooray! This then became our bartering tactic all over the souk & we managed to leave with some well-priced tat – or at least what we thought was!

Marrakech Banksy??


Would look great on my garage......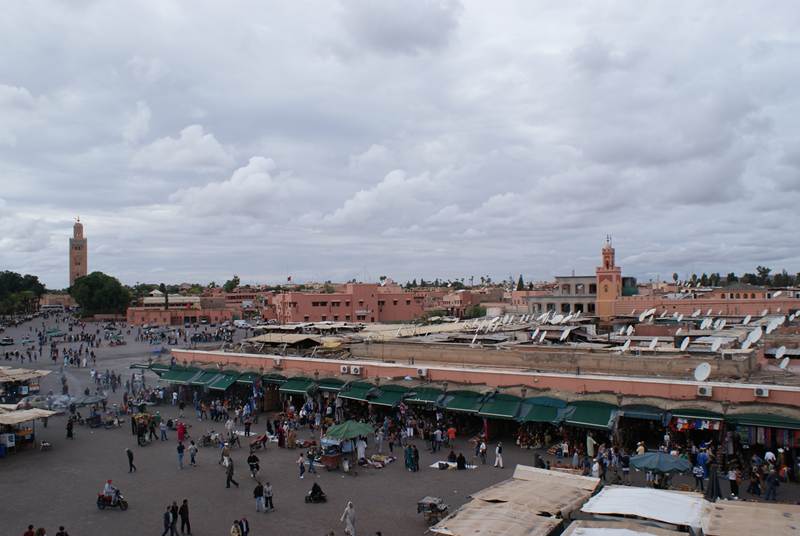 Another tagine lunch looking over the Jemaa el-Fnaa  & we returned to the riad to collect our bags & then caught a cab back to the station. The train left about 30mins late, but was much quicker than the trip in……we arrived back to Mohammedia around 7pm & back to Aardvarc who was waiting for us at the marina.  

Back on the boat we waited for an update from Bruce Buckley (our Aussie weather man, who helped out during the World ARC) on when was a good time to head off down the coast towards Essaouira & onto Madeira.
Then the rain began………
---