Crossing the Equator

Journeys of Aardvarc
Ed
Tue 12 Feb 2008 20:00
<<DSC02618.JPG>> To <<DSC02619.JPG>> da <<DSC02622.JPG>> y
<<DSC02623.JPG>> we <<DSC02626.JPG>> c <<DSC02627.JPG>> rossed the
equator.

As you can see from the photos it was a formal event whereby Sam was
presented with his certificate for "crossing the line" for the first
time.
The ceremony required him to stand with one foot in a bucket of water
from the Northern Hemisphere and the other in a bucket of water from the
Southern Hemisphere whilst receiving his certificate ( copy attached)

The ceremony was completed by the necessary formality of drinking a
newly designed cocktail...in this case a "Tuna Colada" . In case you
want to try it : Coconut milk, concentrated Mango juice , lots of ice
and a tiny drop of Bacardi ( to taste)

As we were eating lunch just before the crossing we were visited by a
pod of pilot whales, about 6 of them, 2-3 times the size of dolphins,
wonderful!!

We expect to arrive in La Libertad, Ecuador tomorrow morning.

Cheers!


Equator.pub
Description: Equator.pub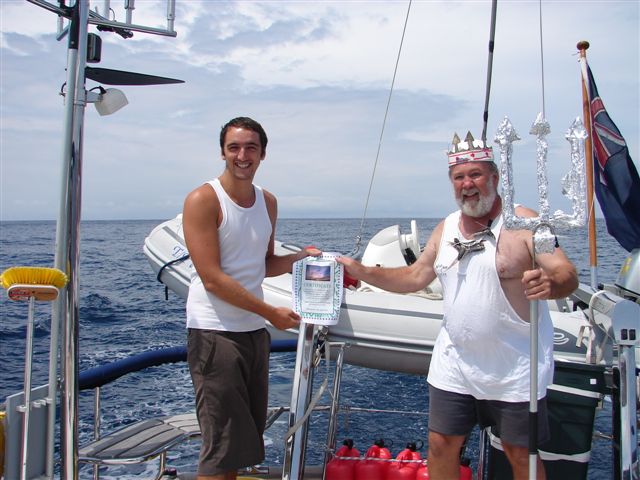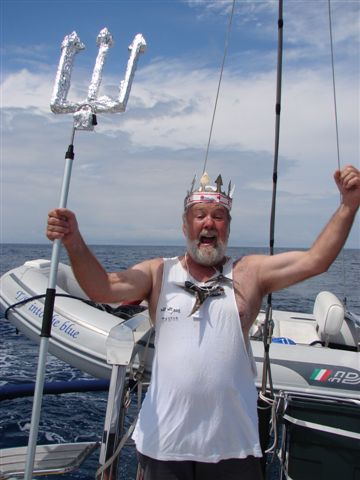 ---