Mohammedia

Journeys of Aardvarc
Ed
Tue 13 Nov 2012 12:27
33:43.7N 07:20.8W

Mohammedia
Our last day in Mohammedia! We think………

So, this has been "home" for the past couple of weeks & we've really got to know the place. It is truly off the beaten track & the only other "tourists" we have seen have been our fellow sailors, so we felt like we were in the true Morocco – I suggested it as an inclusion in the next revision of Lonely Planet when I met Helen in Fes, but we agreed that it's nice for some places to stay hidden. However, Daz & I will be updating Noonsite (sailing website) with our findings to help future crews – especially as getting into Rabat can be such an uncertainty.
All of the people we have met here, without exception, have been friendly, helpful & good fun, going out of their way to assist us – all the places we have visited in town we have been greeted with warm smiles & everyone treated us like old friends & in good humour when we couldn't quite get our French together! I couldn't even get annoyed at the lovely lady in the launderette where I lost my pj top (the perils of using the local laundry) & they stapled labels into all of our clean clothes, including our pants – ouch! The harbour & marina staff in particular (including Police & Customs) I will forever remember as a great bunch, always smiling & have a great time – nothing is a problem!

Great food such as this sea bass tagine:

Being an animal lover I often worry about visiting other countries as their respect & consideration for our furry friends often falls very short of what I would like it to be & I can find this incredibly upsetting……..this is not the case here. Whilst dogs & cats don't seem to have owners, in particular, the whole community cares for them as they completely understand the advantages of having them around. Cats are everywhere, but you'll be hard pushed to find a mangy one – they are all fat, happy & very friendly; especially around the docks & in the medinas where they control rat & mice populations & are, therefore, very valuable. The dogs we have seen have been happy, waggy & well-fed, often sat with the officials doing a bit of guarding, if they feel like it. Our special doggy friend in Mohammedia was Ahmed (real name unknown – guard said "vagabond"!) – although a little bit wary at first when he realised that Daz & I usually came loaded with lovely treats (leftover fillet steak or ½ roast chicken!) he quickly became our best friend, waiting for us daily at the marina gates, & "smiling" ie bearing his teeth in a fabulous non-aggressive manner when we rocked up. A lovely lovely boy, who we even discussed smuggling onto the boat (Pumpkin would love him!) & bringing him home – I have no worries about leaving him here, though as I know he will be looked after……….but do miss his smiley face.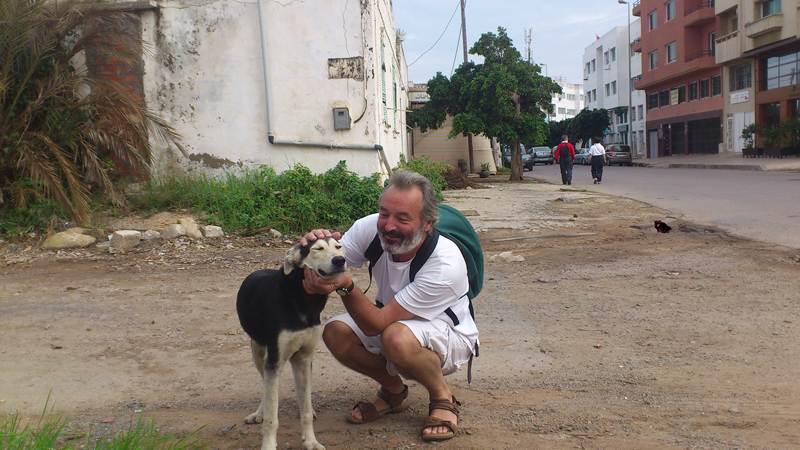 So, we're off tomorrow then – we have stocked up on provisions, filled the water tanks & made sure all of the bottles of wine are secure! Ready or not, Madeira……..here we come!
---