Cape of Storms

Journeys of Aardvarc
Ed
Mon 24 Nov 2008 16:17
position 33:54.4S 18:25.2E
The Cape of Good Hope is not known as the Cape of Storms for nothing.
Certainly we encountered the worst weather conditions yet on the way from Durban round to Cape Town.
The journey was about 800 miles and took us exactly 4 days, an average of 200 miles a day or over 8 knots!
One days run we did just under 250 miles, a new record but we were being helped greatly by a 3-4 knot Agulhas current in our favour.
On the way we saw a white structure behind us and thought it was a capsized dinghy. We turned round and went back over a mile to check it out and discovered that what we had been seeing was the tail of a whale. Sadly we did not get a very good picture as it dived as we approached.
The weather forecast had been iffy for a while but there seemed no choice but to bite the bullet.
Most of the time we had 25-35 knot winds but as we approached the Cape it all changed. The wind accelerated down off the mountains at speeds up to 60 knots or so. The anemometer could not cope and was off the scale. Fortunately we had some shelter from the headlands and this diminished the size of the waves.
As you can see we managed a hearty breakfast in spite of it all and kept up our sense of humour.
When we arrived in Cape Town the newspaper headline told it all!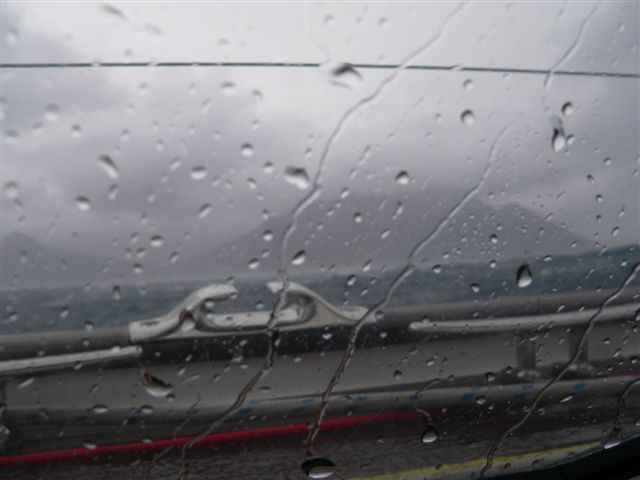 ---