Baiona

Journeys of Aardvarc
Ed
Mon 30 Jul 2012 17:12
Today's blog comes from peripatetic crew member Nick. Over the decades, I've sailed with Ed on all of his boats. I've learned a little and forgotten a lot. Call me barely-competent crew. But life isn't just about being competent is it? In fact, life would be pretty boring if everyone were competent - not that there's much chance of that. I am a Jubilee line user, after all.
I arrived in Vigo, Spain, on Saturday night, not having been here for about 6 years. Ed met me at the airport and we went straight to the marina, where I got my too-long overdue look at Aardvarc. It's very elegant inside, bigger than Salsa Verde, and has way more gadgets. It was great to see Heather again after 6 years, and it wasn't long after the obligatory G&Ts that we were reminiscing about 2006's Balearic adventures.
We enjoyed truly excellent food at a nearby Polperia which we assumed meant 'Octopushouse', although 'Steakhouse' probably has a better ring to it. We weren't disappointed: not so much a barrel of laughs, but a barrel of boiling octopuses, hoiked out to order. Served with homemade crisps, it was quite a spectacle in its own right. New dishes and wines, old friends and Spain – sublime. The waiter said my Spanish was very good, but I needed to practise a lot. Now was that a compliment or not?
We went swimming the next morning in a sports centre that was calm & peaceful, if a little run down. There are always people hammering up and down the lanes making you feel unfit though, aren't there? Still, I suppose Ed & Heather need to keep fit.
Straight into the admin – we spent a while applying for a special permit to anchor at a nature reserve nearby and set out. We never got the permit, but anchored there anyway. A beautiful sunny sheltered spot where we enjoyed a jamon lunch. The winds there were absolutely mad though – sails up and down like a, well, it's what sails are for isn't it?
I enjoyed that bit of rough though. It didn't last long enough to be that unpleasant. So, sailed on into Baiona. The marina is right close to a pretty town with old alleyways bristling with restaurants which all look wonderful and make for a hard choice. We made a good one in the end – enjoying a bit of a fry-up of Pescaditos, Chipirones (claro) Hake and Mussels. After saying that we were too full up for desserts, they brought us some cakes afterwards anyway, plus a trumpet-shaped decanter of iced coffee liqueur which they obligingly left on the table for us in case we wanted some more. Quite a privilege I think, especially since he knew we were English.
We had a beautiful view of the sunset, and finished off the evening with a magical walk round a hill with a small castle at the top. Topped off by a little frisson when we came up against locked gates at the end of a mile-long walk, happily resolved by a bit of clambering.
A truly perfect day – it's so very lovely to be back in Spain with nice friends, excellent food, and so far, good weather. My only real dilemma is how necessary is the grind of ordinary life, to keep this sort of experience in the very special place where it belongs?


Nick


Today we spent a very relaxing day in Baiona, visiting the yacht club where we were joined by a very daring seagull. We launched the dinghy and are busy setting up for the evening barbecue.
Managed to find another local Golden retriever to photograph....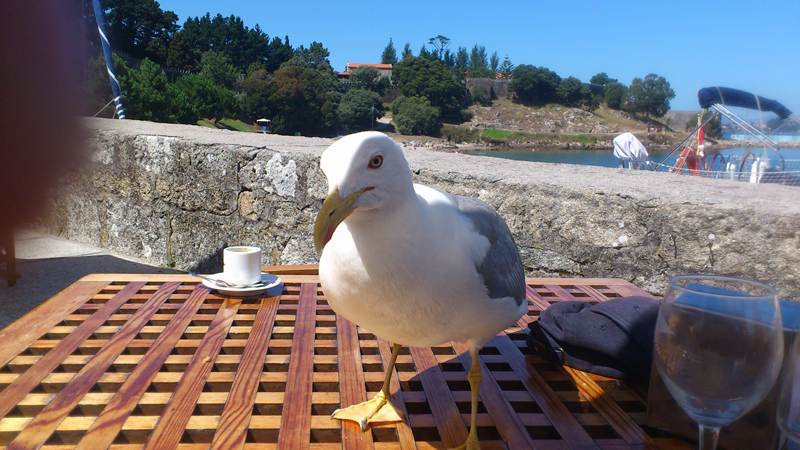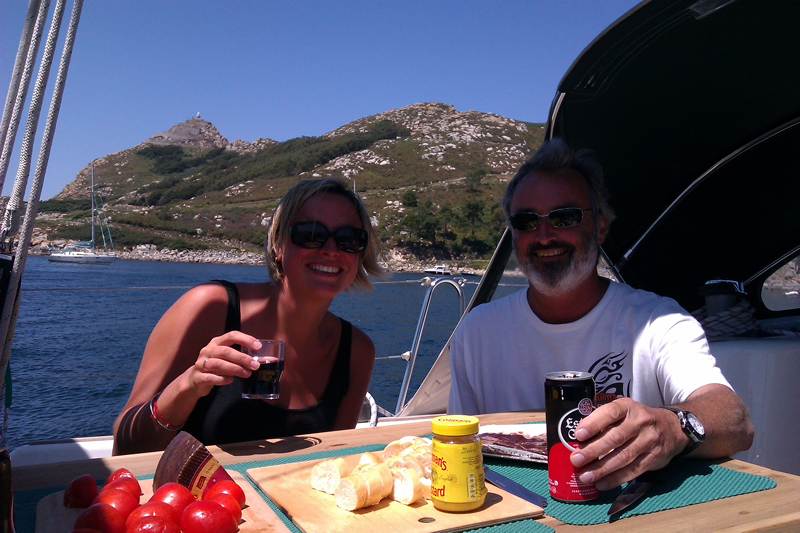 ---