Port Resolution, Tanna

Journeys of Aardvarc
Ed
Wed 9 Jul 2008 01:00
Position 19:31.4S 169:29.7E
A tricky entrance into Port Resolution bay. Named after Captain Cooks second ship.
He arrived here in 1755. We managed to arrive a bit earlier at 1645 ( quarter to five!)
It was like going back in time though. The islanders live in small huts with dried banana leaves for the roofing.
They have a good system of schooling, are bilingual at least ( English, French and local dialects), and speak eloquently and intelligently.
We had a traditional exchange of gifts ceremony. We emptied the boat of odd we didn't need ( fish, meat, Ken Morrisons carrots and meatballs!), and also spare fishing tackle. When we were in Panama we bought loads of exercise books, crayons, pencils, paints etc for the schools as we knew of their situation, and gave these too. They are proudly self sufficient and very happy with their lot.
In exchange we received hand woven baskets, mats, skirts and fresh local fruit and veg.
The ceremony lasted all afternoon, with a speech by the chief. To their credit the world Arc organisation paid for a new hut to be built in the village.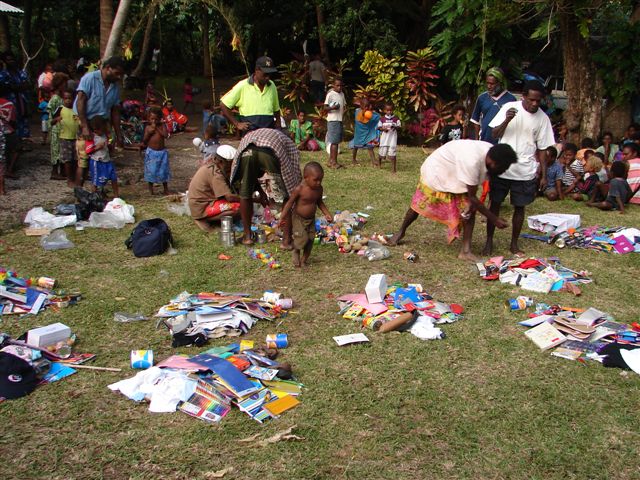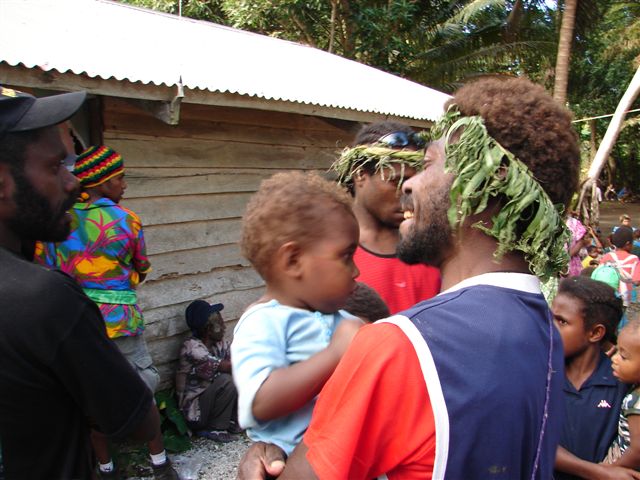 ---