Reunion

Journeys of Aardvarc
Ed
Fri 24 Oct 2008 14:24
Position 20:56.5S 055:17.0E
Had a very fast passage here from Mauritius, for one hour we averaged 9.7 knots! Winds were mostly gale force or just below.
The afternoon of the day we arrived, the winds increased further and it turned out we were feeling the effects of a tropical cyclone (named ASMA) that had formed to the north of us.
Reunion is a little bit of France down in the southern Indian Ocean, 130 miles west of Mauritius. I hadn't heard of it.
Apparently it was the first place, in time zone, to adopt the Euro, being east of mainland France.
In 2005 and 2006 Réunion was hit by a crippling epidemic of chikungunya, a
disease spread by mosquitoes. According to the BBC News, 255,000 people on
Réunion had contracted the disease as of 26 April 2006 The disease also
spread to Madagascar and to mainland France through airline travel. The
disease led to more than 200 deaths on Réunion. The French government under
Prime Minister Dominique de Villepin sent an emergency aid package worth 36
million euros ($57.6M U.S. dollars) and deployed approximately five hundred
French troops in an effort to eradicate mosquitoes.

The French army were sent in to spray them, and eradicate them but from personal experience I can tell you they did not succeed!! Scratch scratch!
Also, local people say 200 dead was an exaggeration by the media.
It is quite a shock after the relatively primitive parts we have been visiting since Australia to find a modern " European " island, full of Renaults and Peugeots, traffic lights and traffic jams!
It does, thankfully, have proper French restaurants and we are hoping for a gastronomic experience this evening.
Yesterday we went on an expedition to the big volcano at the south of the island. Was very misty as it was 2,500 metres up. Came across a very weird shrine on the way. ( see photos) Several crutches had been abandoned there , but most bizarrely there was a collection of false limbs resting beside it. An outpost of Lourdes? We were at a loss to explain what had happened. OK, you might be feeling better and able to walk off without a crutch, but how do you walk off without an artificial limb???
The vegetation was wonderful, giant tree ferns, fields full of wild arum lilies, all colours of lichen and moss thriving in the warm, misty and humid atmosphere.
We found a crater that was so deep it took ages for a thrown stone to reach the bottom.
Also a sign that said " This volcano is active , please take extreme care"
In French…… soyez prudent…
Fine, but how do you take care? Either you visit it or you don't!
Tomorrow there is a demonstration by the local lifeboat service with mock helicopter rescues etc. that we are looking forward to.
On Sunday we set off for Africa, hard to believe we will have crossed another ocean. It's 1,500 miles to Durban and there are some interesting seas to negotiate, including the infamous Agulhas current.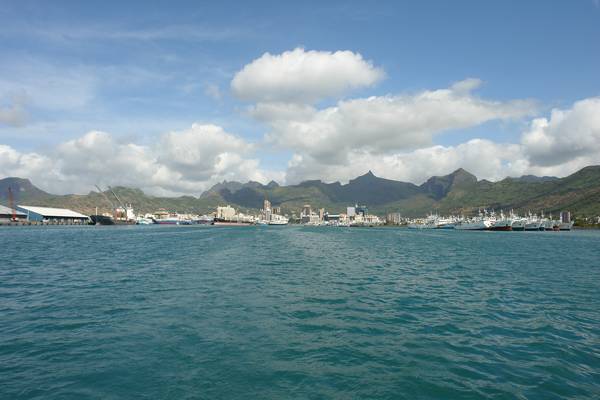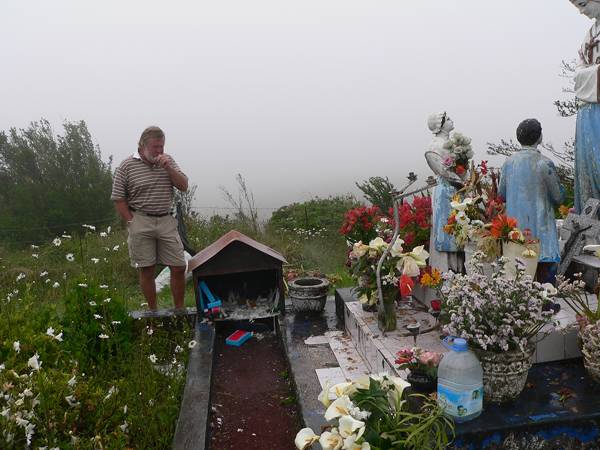 ---