Dygn14, ankomst Horta. Några bilder från överfarte n.

Mantra 2 goes east
Lena & Henrik Harder
Wed 3 Jun 2015 19:09
38:31.880N 28:37.520W
Vid middagstid passerade vi mållinjen - motorerande. Vi har gjort cirka 2000 sjömil, en vacker och lättsam resa - med frustrerande lite vind stor del av tiden. Bara ett dygn med friskare tag. Men vi föredrar förstås ändå detta än att hamna i storm. Valarna har varit en ljuvlig ingrediens. - Vi fick en fin plats långsides vid kajkanten. Kicki var redan här och vi har lunchat ombord. Christer och Kicki gick till sitt hotellrum som fanns i reserv och jag somnade. När jag vaknade var jag skönt ensam ombord. Kenneth och Vydia dök upp, har varit här ett par veckor redan och kunde berätta vilka fler var här. Här i Horta samlas vi.. Och i kväll samlas vi på legendariska Peter´s Café Sport. /Lena
1) Från starten Bermuda
2) Johan för loggbok
3) Lite underhållsarbete; toapump.
5) Studium av dagens väderrapport. Var finns vinden?!
6) Eftermiddags-plump
7-8) Red skies in the night are the sailor´s delight, red skies in the morning are the sailor´s warning.
9) Mitt i natten mitt på Atlanten
10) Ljusets återkomst i gryningen
12) Ett dygn i full mundering
13-15) Svårt fånga val på bild..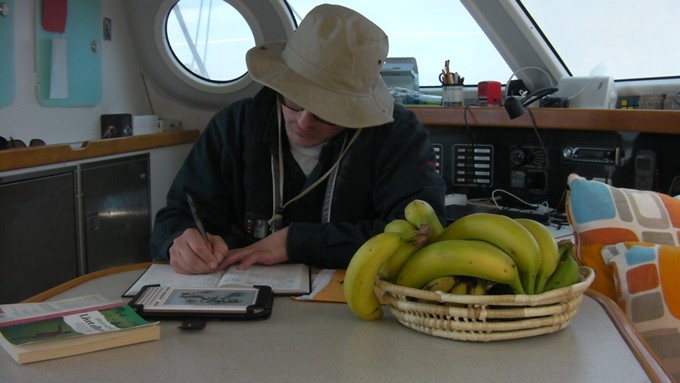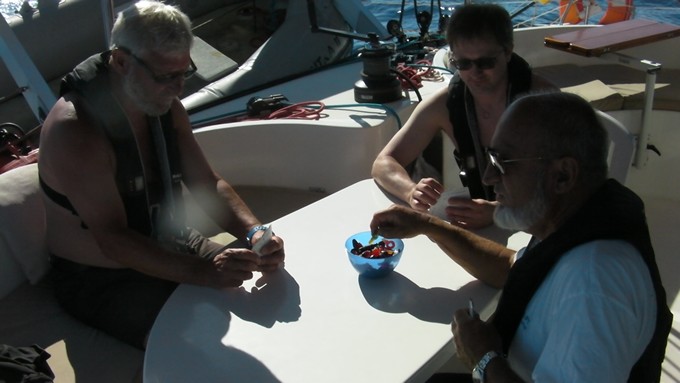 ---