Cosmos Birthday

Pacific Bliss
Colin Price
Mon 1 Apr 2013 04:01
Cosmos Pirate Birthday Party
For Cosmos 8th birthday party he wanted to ask some friends from school and have a treasure hunt on the Boulder Bank which separates Nelson Haven from the sea.
So, the pirates arrived and a treasure map was created with challenges along the way
The pirates – Tom, Liam, Ethan, Jamie, Callum, Luca, Cosmo, Siobhan, Zinnia
Team challenges like .... building flag poles
Camp building
Ending at the lighthouse with buried treasure and a visit up to the light at the top and a great view of Nelson
Longboats back to the Black Pearl All but one made it !!
The Grandfather of all Pirates
Cake, buns, whipped cream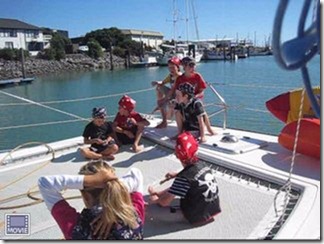 Pirate Jamie steers us home
"Aharrr. Till next year Pirates"
---