Marooned in the Reef Islands

Pacific Bliss
Colin Price
Tue 5 Nov 2013 05:16
The Reef Islands, 6nm North of Tivetwot, remind us of the Tuamotos of French Polynesia with the turquoise lagoons and white coral sand beaches. But they are uniquely Vanuatu with their own secrets and treasures.
We rendezvoused with Brian from Vatop half way to the Reef Islands in the 6nm stretch of water between Vanua Lava and the reefs. He guided us expertly in through a very tight gap into the lagoon and then into an innner anchorage between two islands where we stayed for four days, totally isolated from the world and unable to move without a guide out again. In the end we could wait no longer, so armed with the GPS track, Liz up the mast and a high tide we wove our way out the way we had come.
Heaving the canoe onto the trampoline whilst at sea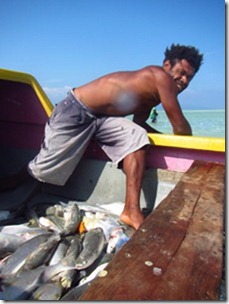 Brian net fishing for mullet – this has probably got to stop soon before they run out.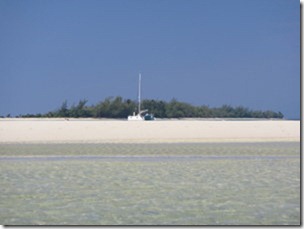 At low tide PB was landlocked either by sand banks or shallows, there was no getting out.
Megapode footprints in the sand. We hunted for the eggs, which we know are there, but after much digging and broken fingernails we gave up.
Cosmo getting braver and braver at climbing for coconuts. here he is up the tree with his machete chopping down drinking coconuts for us to drink on the beach
Breadsticks on a beach fire on our last night.
Sunny sand dunes
---