Grandparent's visit

Pacific Bliss
Colin Price
Sat 16 Oct 2010 13:59
Granny and Papa come to stay - literally
We had planned for Granny and Papa to charter a boat that would cruise in company with us for the two weeeks they were in the San Blas. It did not work out that way. The boat that we'd sorted got engine problems two days before they arrived and for the next two weeks we kept on hoping that it would be fixed and the charter could continue. This meant we had a very different time than we'd expected. 2 kids, 2 grown ups, and 2 very grown ups, who all have very different needs for space, peace, school, food, etc etc, on a boat was never going to be easy. Anyway we did not change the plan which was to go back to Eastern Kuna Yala and then spend some time in the Western part to relax. Overall we had a very interesting time with a bit of tension here and there, but everyone found their way and all was good.
We got delivery of our new camera so could start taking photgraphs again. The last one had taken a dive in a shallow puddle of beer and never recovered.
The moment of arrival by panaga (motorised launch)
Unpacking the mule train - like Christmas
Venancio the master Mola maker dropped by and laid out his wares
Palm islands
and calm seas
The morning radio net has become as ritual as morning coffee
Family board games
Mucking around with Lolo before we head off East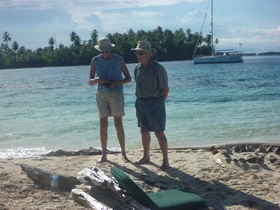 Granny and Colin go Lime hunting with Edwino
Lovely to go snorkeling with granny spotting all kinds of coral and inquisative spotted eagle rays swimming up within an arms length to say hello whilst Colin dives spear gun in hand for supper.
Diving on a sunken wreck.
We travelled back to Eastern Kuna Yala and visited some of the same anchorages we had been to on our previous visit and remet some of the lovely people
Fort St Andrew with Simon Herrera and team by very speedy boat
Explorers
.... need lunch
We went to Caledonia
Liz and Granny visited a mola lady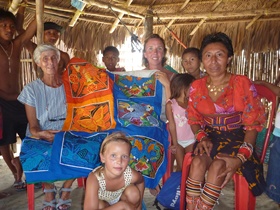 whilst Cosmo played with the boys as usual
Mulutupu
Gave a chess set to the boy we had met before
In search of
. . . . .peace.
Isla Pinos
Lobster for tea.
Mamitupu. Chicken and Chips for Papa and Zinnia
and lobster for supper care of Paulo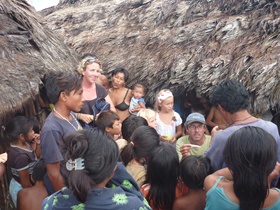 Giving out medicine in a dirty crowded family hut. This was OK to do this, but the tragedy is the handicapped child in the hut behind who noone ever sees. Spot Colin amongst the people.
Home made such as only Liz can do it. Made from fresh tuna
Mono island on the way to Tupile had a strange, and rather odd sign to visitors. Hilarious.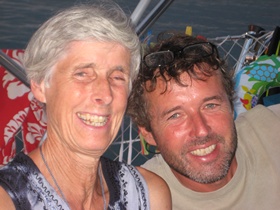 Two weeks together and we all have many memories.
A visit from mola Lisa
---