Ua Huka - Fruity Island

Pacific Bliss
Colin Price
Sat 4 Feb 2012 01:41


Ua Huka

At the festival Ua Huka enchanted us all with there version of the 'dance d'oiseux' (bird dance), The lady oiseau danced like a ballerina then with great skill and a great deal of humour the men of the island danced and did battle 3ft in the air with the aid of beatifully carved stilts. So Ua Huka was a destination we'd looked forward to. It is the wood carving capital of the Marquesas and also the islands of the horse - hundreds of wild horses roam here. But with the lack of water the landscape is near to luna or desert and many many horses are now dieing. In the UK you could fence your precious nag into your field - here all gardens and fields are fenced to protect them from the ferral horses.

Baie Haavei

Our trip over from Nuku Hiva is a day sail but of course the wind has shifted 24hrs earlier than expected so it's a beat. We leave with 3 other boats but once we arrive in Haavei it's blowing a hooley, so we're really not sure how long it's going to be tenable to stay, and by the following morning it's impossible due to swell for us to land the dinghy.

This valley is owned by the once influential Litchle family, and its a rather sad deserted compound that once must have been are rather glorious and frivilous place in the 60's and 70's

But we are really sadly we have to say goodbye to Philip and Micheal as they have discovered that Philips dad passed away during the night so they need to get back to France toot-sweet.
s/v Tereva in Haavei before they had to leave the next day
So the remaining boats take off in search of more protected anchorage, which proves to be impossible. Dispite the discomfort and the rather trechorous landing conditions, we all where swimming costumes to land and the kids are in life jackets for the first time but something is pulling us to stay, so as we dig the anchor in we wave goodbye to the fellow boats.
Baie de Hane
So we brave the waves crashing on the beach and make it onto Terre Firma, after a week we're rather a dab hand barly getting our toes wet. First thing we notice is how super friendly everyone is. Folk don't just smile to acknowledge you, they wave vigirous from there cars and your never able to pass by anyone without shaking hands and having a little chat. It's also an incredibly quiet place in the mornings you see few folk walking around it only the humming of the carvers at work that let you know folk arn't asleep.
Carving is everywhere - in stone, wood and bone.
We aim to do about 3 or 4 activities here and then move on to the next island but 3 or 4 things turns into 3-4 weeks. We're all back on form able, happy and healthy enough to take on a few adventures. The island has 4 villages well spaced apart so some days we go walking others it's a hitch. Again the folk are incredibly friendly you don't just get a lift our made to depart the car with mountains of Biscuits, cakes, Avocado's and of course always fruit. Infact the fruit is becoming a bit of a problem. We are now unable to leave the shore without being laden down with fruit. So for the first time in my life I'm making jam, marmalade and chutney. Luckily our friends from Califonia how had been through Polinesia 5 yrs earlier had urged us to save all our jam jars, then folk where desprate for anything. ohh but how times have changed. Ironically, having used all of our supplies of jars, 5yrs on it's us asking the people from Ua Huka if they have any empty jars, these usually come in the shape of a Large Nutella jar.
. . . . a days gifts. Then what to do with it all?. . . . industrial jam and chutney making of course
First walk over to Hakatu
The thing we really like about Ua Huka is the lack of cars, we have found the ownership of cars rather alarming No more so in Fatu Hiva where given there is only 2km of road it seems rather over kill that everyone is the proud owner of a new 4x4 truck. Here everything is a little more dishevaled and the vehicles they have are fit for purpose, lots of beaten up old landies. Only a few of the younger folk have the motors bought on the 'never never'. but more importantly there are actually big distances between the villages. Our other big beef is that folk drink expensive fizzy drinks whereas on Pacific Blisscold water and home made lemonade seems to be more in evidence.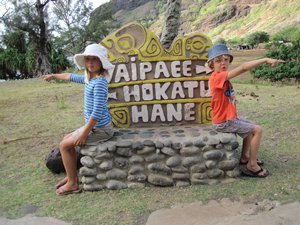 Where to go?
There is only a population of nearly 600 on the islands and so far we've only found about 4 different surnames - Fournier, Litchle being the most popular. But small is beautiful and making friends in this increadibly hospitible island is easily done. Due to the lack of cars it's essential to hitch a lift in the morning to Vipaee so we turn the day into a school visit to learn about the forna and flora at the islands Arboritum and then on to the best museum in the Marquesas to learn about some of the beatifully carved killing instruments from the island. Cosmo's favourite being a 'Casse-Tete' (head basher). But many of the other items are fascinating, like earings made from decendants bones. Shell buttons once belonging to the missionaries that are later used to adorn there head dresses, I just wonder what became of the missionary....
Museum
traditional dance rings
It seems that so many of the show pieces of the islands where initiated by the old major, of 36 yrs, 'Leon Litchle'. So we go in search of this fellow. Now aged in his 70's he couldn't have been more welcoming immediately cutting open juicy Pample and feeding the children sweet star fruit. After a mornings learning we hitch a ride back this time with Napoleon Litchle another member of the family!
Having felt we might not last the night after eating up at Tovey after horse riding it was rather alarming to meet the exact same family here, and rather more alarming Colin unknowingly had accepted invatation picnic with them on the beach. So after a lunch of horse meat and beer he then heads up the road to have dinner with the local policeman. Chalk and cheese....
Beach party
Dinner with Kato and Eliane, the policeman was a feast - poisson cru, fei, goat au lait de coco, pork, bananas, breadfruit
On our visit over of Vipeee colin spotted a rather beautiful and unusual Japanese inspired house. Most of the houses here are flat pack that are heavily subsurdised, you can buy a 3 bed house for 2,000€, but elegant it certainly is not. So Colin was rather intriged and we went off one day in search of Daniel the creator. After shouting through his open kitchen door and disturbing him and his wife from there siesta. Danial who is 50% covered in Tatoos emerged from his house looking rather frightening but in trueth he's a rather wonderful artist and great charactor. We're given a lift in the back of this beaten up pick up truck back to Hana and the next day he arrived at the beach with mountains of fruit and 4 wonderfully engraved necklaces for each of us bone dolphins for the boys and tiki carved mother of pearl for the girls, it really is an extrodinary place. Even the major has been chasing us around town to give us a sack of grapefruit and a box of Starfruit.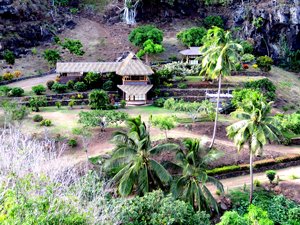 Sunday and our planed walk up to find some hidden petrogriphs is postponed due to Z having been really rather ill over the past few days. That afternoon Colin sees a boat approaching and to be honest our hearts sink abit. However this just turns out to be another wonderful adventure. This boat doesn't just have great grown ups on board, who's English is impeccible, it also has a girl aged 8 and a boy aged 6. They very very quickly become a very welcome arrival.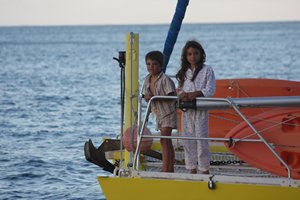 Hector et Clemence sur s/v Banana Split
We get dropped up the hill by the policeman, Kato, and walk up to the tikis, passed dripping mango trees.
And we drop in on Denis Fournier who had made a stone carving for us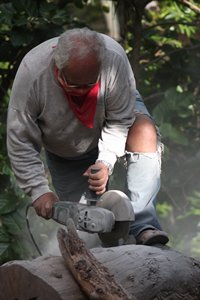 ---