Tahuata Week1

Pacific Bliss
Colin Price
Sun 18 Mar 2012 21:29
The wonderful island of Tahuata
Baie Hanateio, Tahuata - secret anchorage
A meer 10nm from busy Atuona is the remarkable anchorage on the pretty much unvisited - because of the swell - Eastern side of Tahuata island which has a modest population of only 600 in about the land area of the Isle of White
The weather is unseasonally benign which enables us to visit a beach and bay that no-one seems to get to, happpppy. On the beach are a group of folk cooling off in the surf. Colin and the kids are dispatched cake in hand to go say hello. And yet another episode of book and cover unfolds. The group are camping, basic style, whilst collecting wood for carving, collecting seeds for jewelery and hunting goat, pig, cow for eating. So Colin and the children continue to share the beach with the 2 families over the next few days. The family have never seen a boat in the bay before. As they start to ready themselve to leave we offer to take wood for carving tikis for them back to the village. They transport the exceptionally heavy woood by pirogue and it's probably going to take about 3 runs so PB turns into a transport vessel. Having realised we've got the space we're quickly laden with salted goat, wild boar, tents and all manor of cooking utensils. Wonderful to be helpful but unbeknown to us at the time, it was a fantastic start to spending time with a large truely lovely Marquesan family.
Strange fishes and strange nuts!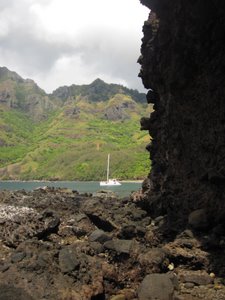 We helped to transport tonnes of wood for a local carver, Tafeta, back to Hapatoni village on the other side of the island, along with tents, saucepans and barrels of salted goat meat.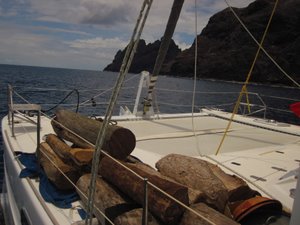 ---