Passage back to Tahiti via the Tuamotos

Pacific Bliss
Colin Price
Fri 25 May 2012 19:07
Passage to Apataki and onwards to Tahenea
A truely uneventful passage down to the Tauamotos, which is just how we like it. Could have done with a little more wind but at least we got to see breaching whales, and I'm able to crack on knitting my Marquesan Rug, the kids do school and the crew get a wash.
After a slow trip down, we manage to make it to Apataki just after dark. The phenomina of arriving just too late, as making a night entry to through a pass is not recommended, seems to be our speciality and means another night at sea. We spend that night tacking back and forward just killing time until the break of day. Lucky for us we're unaware that another boat who was in the same predicatment three weeks before ended up crashed on to the reef, the guy escaped unscathed but the boat was striped clean by the villagers by the time the light got up.
Despite the exhaustion from a long passage it's very very pleasing to be back in the land of blue. Colin and the kids are teaming to get ashore. But due to the passage and having been awake for the past 12 hours I'm on my last legs. The caranage is in clearout mode as all the family are off to Tahiti for Alfred's daughters wedding. It doesn't stop the next few nights, before he leaves being a party. As before we find an army of great folk working on their boats in the yard.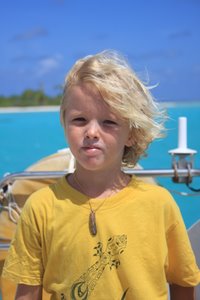 Family beautiful ?!
Beautiful neighbours
As always work needs to be done on our boat. Increadibly Colin manages, with the aid of an airtank, to remove the propellors and sort out the anodes. Alfred lets us moor the boat off the slip for 5 days so we're able to walk around the boat and clean the growth encrusted waterline. It's no easy task and takes four day of scrubing to find the white. All the jobs leaves us late to depart, suprise suprise. So on April 16th, my birthday I spend it with countless buckets of water hand scrubing the entire fabric contents of our boat. Given I loathed hand washing even the most precious of my Cashmere jumpers, it's a total turn round. I actually enjoy my 44th birthday. The folk here in the yard are magic and the mention of my 'Anniversare', and us producing a massive lumps of wild Pork and Goat from the Marquesas, brings everyone into a state of high activity for dinner that night, most folk haven't eaten meat for many months. I totally love the whole adhoc enviroment with all these enthusiastic folk; Germans, Polish, Polynesian, American, Australian, and of course our beloved Franies.
Paradise however you look at it
A relaxed afternoon 'fishing on the dock of the bay'
Egg delivery
Unbeknown to Colin I've decided to invest in some Apataki Pearls for my birthday. The plan is to have three different coloured pearls strung onto a bit of black leather - all very understated. Only once I've selected the beaut's I discover that even at knocked down factory prices it ain't exactly cheap and I'm needing to speak to Colin for approval. Only moments after discovering the price I'm told the real price. I am given one by Alfred the boss and one from Tony his son, so all Colin has to do is fork out for one pearl, and in honesty I know he's going to love seeing that little bit of Apataki around my neck. Last year my birthday was one of the worst in living memory this one pretty much tops the lot. Delicious food, no great effort from me and a lot of very happy folk sipping on the last of their Chillean wine supplies or flicking back Tequilla shots, finished with a suck on some of our Marquasan limes.
Birthday Pearls Alfred, Tony and Colin . . . not necessarily in the order.
The ever happy Armel
Papi joins us for the evening and on discovering it my birthday busys himself in the dark garden, then appears with a beautiful scented necklace of flowers . I've been desparate to be doned with one of these garlands since arriving in Polynesia so it is very special that I am given it here at Apataki, by Papi.
The next day, with rather sore heads, we back PB away from the slipway and head to meet awaiting chums in Tahanea, a wee bit late but no one's in a rush. We've not been near a shop for six weeks so I'm in great need of supplies. We're out of wine, beer and veg, not a situation I'm terribly comfortable with. Sadly for me the winds in a good enough position and Colin's keen to spend as much as time as possible in our favourite atoll - its 130 nm odd to Tahenea pass, another overnight. So the scheduled shopping trip to Fakarava is cancelled and we spend another night at sea, all fine but not something to relish after a few nights of parties at the Caranage. But ohh how lovely it is to be with more of our friends and back in this magic place, there's even a lovely little boy we know for Cosmo and Z to play with - Titouan from s/v Nomad. Only problem is, it seems we've been telling to many folk about our little secret so it turns out not to be the 'bare it all' paradise we knew before.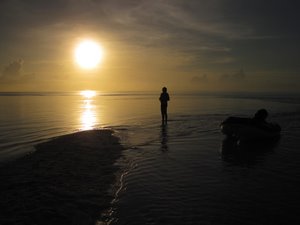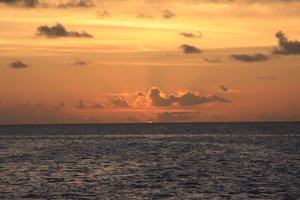 There can never be too much time spent swimming around in the crystal water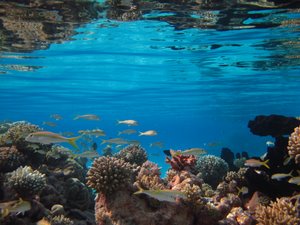 Cosmo having not been particularly keen on learning to speak anything other than English (because he is!) over the past few months, he's met a possy of lovely little boys so luckily this theory is slowly being erroded as he is forced to speak more French. Titouan, being one of the loveliest, speaks little English, so whilst 'pow pow' is the same in both languages, the children swap language lessons and it's a big success, especially as both families realise our little darlings are actually far more accomplished than they've been letting on.
The kids eat and speak together in French or English
Thiery coconut grating to amek coconut milk for poisson cru
Like the Queen, Liz manages a second Birthday
Liz's birthday games on the beach
Shell collecting for the girls and ....
delicacies to prepare before
Pinacolads with freshly squeezed cocount milk, pineapple from Moorea and rum from Tahiti
Then the usual feast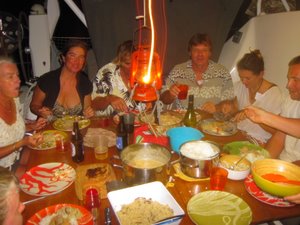 Oppi sailing in the day for Zin after some persuasion from Dad
Island pirate
Philippe
So lots and lots of BBQs on the beach, spear fishing,oppy sailing and Coconut Crab hunting, It's a rare delicacy in Polynesia and we find a moto teaming with the illusive rascals. We spent the whole time here salivating about eating this crustacean but have never found one large enough. Sebastian (Tethauns daddy) and I go hunting for coconuts but after 25 mins and hardly finding one with water still in it. The main reason is the place is teaming with Coco Crabs and it seems they've had first dibs. Polynesia is incredible for many reasons including the fact there just aren't any nasty beasties lurking in the woods - not so on this little Moto. Put a wrong step and the hundreds of large pincers nestled under palm frones and they'd have your toe off. Taking a few for the pot seems of little concequence to the environment.
i
Coconut crab

The Price family have recently developed a great love of cold coconut water, ohh how are we ever going to fullfill this love whilst living in the UK, for us Polynesia has it all.
A bit of wake boarding on flat calm water. and some extreme windsurfing later in the week keeps Colin busy
The islands seem to be rich in 'kaveu' (coconut crabs) so five are caught for lunch one day with the crews of s/v Namaste, Dreamtime and Nomad
Out of the bucket
fearsome creature
Still got 10 fingers
in the pot
Sadly, the weather caves in and staying for another few days seems pointless. We've got jobs to be done and the boat needs to be loaded down with provisions. We're terribly keen to keep a little ahead of the fleet of boats crossing the Pacific this year who apparently are stuck in a bottleneck in the Galapagos with poor weather to start teh crossing. So we opt for moving on early, leaving Tahanea possibly for the last time isn't easy . . Just grateful to have been there at all.
"Twenty years from now you will be more disappointed by the things you didn't do than by the ones you did do. So throw off the bowlines, sail away from the safe harbor. Catch the trade winds in your sails. Explore. Dream. Discover." - Mark Twain
---