Carriacou 12:29.7N 61:28.2W

Pacific Bliss
Colin Price
Thu 6 May 2010 16:23
Carriacou
Bit of an milestone getting to Carriacou. Ever in search of friends we knew that Ivan and Fi Jeffries from Bosham had sailed out of Chi harbour 3 years ago on the classic Arc in their sailing classic, Thelia. Well, we arrived and found them, only to discover they were leaving the next day for the BVIs to have Thelia shipped back to the UK for the new owner in Cowes, of all places. Ivan and Fe are coming back to Carriacou to build a house ashore (currently called 'the shed'), but we suspect that Ivan will soon be making himself a Carriacou sloop in Windward, the boat building capital of the island.
Tyrell Bay
The centre of all things yachty is Tyrell Bay on the South of the Island. Stuffed full of aging hulks that don't go very far, and that includes boats and people, Tyrell bay is one of those places that over the years, yachties have arrived at and said, "this is home". Definitely a comunity of cruisers.
It is a very local place with vegetable sellers and bars along a single road. Tim and Steph found an old French chap, Dominic, living on a floating metal-shop in the middle of the bay who was able to do amazing things with Aluminiumun. So, they're going to haul out in Tyrell Bay to do the bottom at the same time and we're going to go on to Grenada.
Tim having his nits removed.
Zin climbing up the spinnaker boom on Bonaire. "Look no hands daddy!"
The Maroon Festival
IT takes place over three days and nights in various villages. The Friday was in a small local village and was very local. Food is cooked communcally and offerings made to the accestors. Later in the day it is serfved up to everyone there, and there is drumming and dancing. Never quite got to the bottom of the rumour that there was some Voodoo undertones. Anyway, kept eyes open for Kananga rising out of the ground in a graveyard.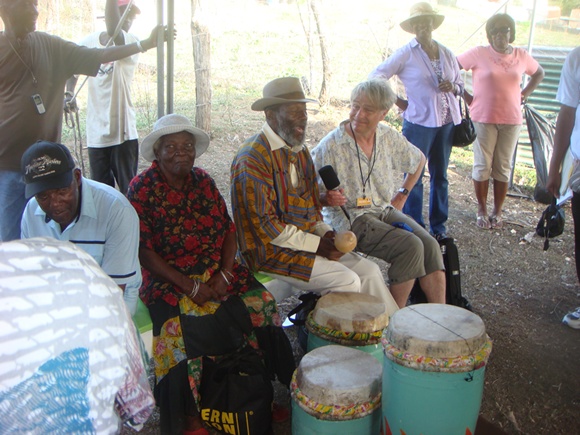 Met up with the editor of Roots Magazine from England, who was covering the festival. A very very charming and knoweldgeable man.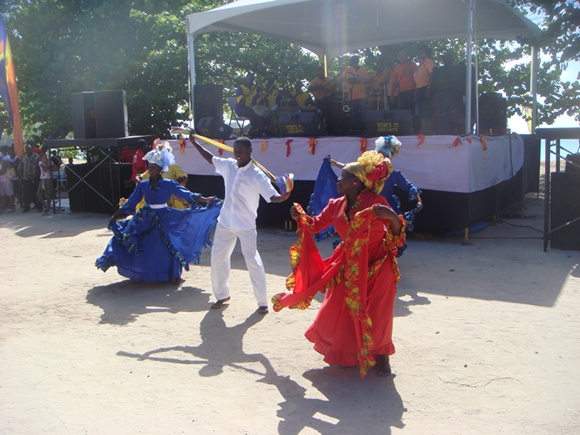 Contortionist and glass-walker.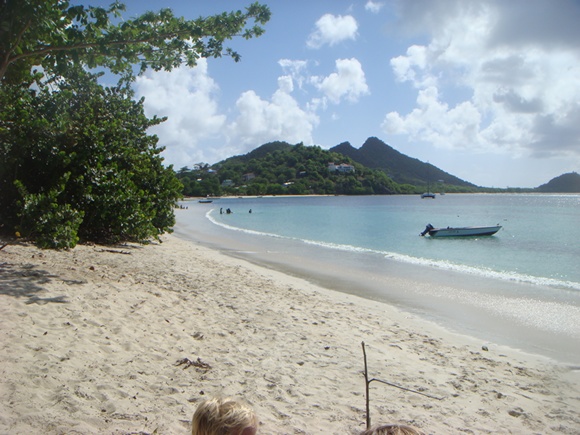 Sandy Island
BBQ on Sandy island with s/v Bonaire and s/v Discovery where we cooked fish and ribs on a fire that took three grown boy scouts to light with a whole box of matches. Kids had a ball, and we chatted to s/v Genesis a Catanan471 and marvelled at the space that the extra 4' gives you.
Anse la Roche
Best anchorage in the Caribbean so far. Small empty, great deep beach, no houses, unspoilt. Not in Doyles guide. Loved it. Tree lined bay where turtles come to lay their eggs at night. Great snorkelling around the edges of the bay and just a lovely relaxed atmosphere with no houses on the shore at all. This is where we said a final goodbye to s/v Discovery as they headed back up North for a bit before returning to Trinidad, and we set off for Grenada another short hop away.
---