after a very long absence 17:04.34N 61:53.44W

Pacific Bliss
Colin Price
Tue 5 Jan 2010 21:36
Cricky, the boat really did get in i can confirm this now.... But since we
have re met, after the initial irritations and getting to know you's we
started to fall back into line. We have been on a bit of a long party. The
hospitality has been amazing. Thanks to our initial introduction by Ant,
fellow passage maker, to a residential doctor and old flat Edinburgh flat
mate we have been whizzing from one party to the next. Meeting and starting
to understand Island life . The climate is fab and all the homes we have
been to have been amazing, with incredible generosity we have experienced,
but island life is experiencing a bit of a down turn in visitors which is a
little worrying for many.


The other plus has been having Giles around and also Julian and Lou
Brynteson in holiday mode hasn't helped my otherwise absteemious nature.
So far the kids and i wrapped up in the uk, just a little bit stressfull
but made all the easier by the the wonderful hospitality of the Betsworth
family.

Flying solo with 2 young kids, particularly mine. but all was so much
better than could hope for. Arriving in a new Country solo with no
trolleys and 7 over sized bags not so much fun, especially when one of the
kids wants a poo when you looking for lost bags.

Jolly Harbour is an experience! An almost gated community where most whizz
round in golf carts, in my slightly superior way i thought it resembled a
scene out of stetford wives. but it's amazing how quickly i found myself
warming to the enviroment. Just need to do alittle work to the body before
I am totally accepted.

The kids loved Jolly we easiely met friends one particular 6yr old zinnia
met who was just coming to the end of 6yrs cruising, We had great fun with
the Cart all dec'd up in tinsle that is until poor old Cosmo was flung out
during a Blonde driving bump moment.


So we spent Christmas day in English Harbour sitting on our boat happy to
find out that Santa does deliver through boat hatches too. and watching
some wonderful sights of 50 somethings dressed up in Stockings, high heals
and full naughty santa kit, whilst sipping cheap champers at 11am,
surprising to say they where a little wobbly on the heals come 4pm.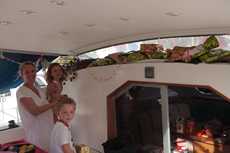 Anyway by midday we join the crowds the steal drums and the regae band.
Great atmosphere but very different to UK family christmas. We had a
drinks party for 13 at about 3ish with some mean Rum Punch supplied by our
Lunch guest, originally Lunch for 5 that crept up to 9. Never before has a
Turkey lunch been so easy even with all the trimmings, no more aga cooking
for me.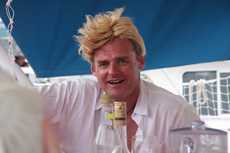 Boxing day was spent at Green Island at a lunch party, what a mega treat,
and the start of our insight into island life and folk.

All in all not a bad start. But i have now gone on a alcohol free month.

We have some serious sail training needed so clear head required. In truth
we have been having a bit of a holiday to date so feel the real trip starts
tomorrow as we set off for St Barts.



---