Royal Visit of Granny and Papa Part-I

Pacific Bliss
Colin Price
Thu 10 May 2012 05:42
Granny and Papa in the Marquesas - The Royal Visit
At 3am on Friday morning the cranks of the Aranui's anchor finding a resting place woke us all.
Having dispatched very excited children off to school by 8am we watched the rest of the passangers being dispatched on to the shore. Colin collected the assembled luggage and boxes and then took the well travelled G&P (they had left England a week previsouly and come by way of LA, San Diego, Tahiti, Fakarave, Ua Pou, Nuku Hiva, Hiva Oa and finally fatu Hiva - the most far away place in the Pacific you could hope to try and get to.
First off, a walk around the village before collecting he children from school. Then back to the boat for a grand old catch-up. Poor G & P not only have they a made the never ending trip here they've also had to carry rather an obseen about of on-line shopping from us. The wonderful collection of gifts and letters from folk at home was hugely appreciated. The wonderful skin rescue from Kerry and lipstick and nail Polish has only got me only mildly paranoid!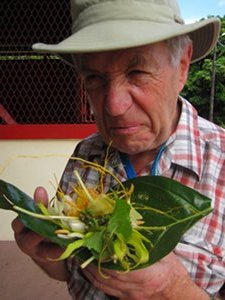 Papa with smelly leaves used in a hairclip
Gill walking down the old highstreet with Zinnia
Three generations living together in a small space in a far away place is potentially not exactly one that surpasses all others. The children have been missing G & P dreadfully and Colin and I have obviously fallen into a rather chilled out state, and are eager to share the way live.
With so many islands to visit and only a couple of weeks to get round them we've only time enough to say drop off thank you in the shape of cakes and get over loaded with fruit almost to a point of our water line dissappearing. Along the way Colins folks are proudly shown the largest drum in Polynesia and from the lady who has been keeping our bikes safe, granny got a private demonstration of how Tapa ( a form of paper and cloth) is made from bark. Other than nearly being eaten alive by a evil dog all went well.
Big drums and dogs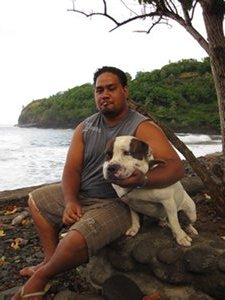 Hanavave - Bay of Virgins
Anyone who makes it this far has to be treated to a night in the dramatic 'bay of virgins' where granny is able to purchase a wee bit of wood carved into the shape of a bowl.
The virgins head - Cosmo thinks she's working on a laptop!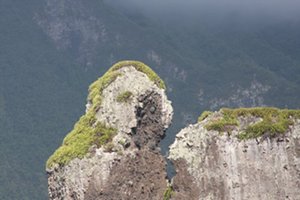 G&P bought a lovely carved rosewood bowl from David who engraved his signature as we watched
The following day we had a wonderful sail back to our friends in Tautata, cricky the children are enjoying having G & P on board. Peter very proud to find his grand son will be following in his foot steps, as an inventor. Zinnia and Granny could chat for a life time, Z super keen on knowing everything about her childhood.
Cosmo and Papa being inventors together
It was a complete treat to be welcomed back with open arms to Fredrick and Roses home. I'd promised Pizza so for the first day I busied myself making 5 batches of dough whilst Z turned into the tour guide taking her grandparents on a long walk to see the ancient hidden petroglyphs.
During supper that night, lovely Frederick promised to take G&P to visit the beautiful church in Vaitehu the next village accessible by 4WD, but best of all for G & P they get to see the dynamics of our lovely Marquesan family.
The following day I was left with the ladies to teach them how to make pizza, bread and sushi. Whilst the rest of the family endure the road to Vaitehu.
Last time we where here we swam with and watched the most incredible display of dolphins, this time the experience got a whole lot better. Firstly because there where no hideous biting plankton in the water but also because the water was so clear we where able to observed multiple acts of fornication, not even a BBC wildlife film could top this.
Dolphin following in the dinghy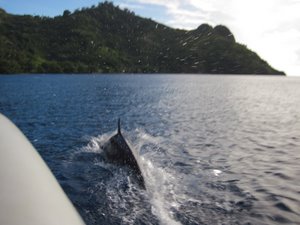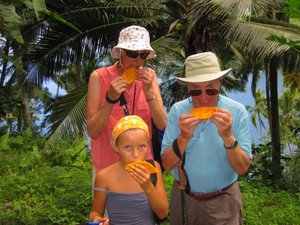 Fresh papaya and Zinnia demonstrqates how fish used to be preserved
Petroglyphs on the rocks
Boats in the bay of dolphins and Papa takes a rest
Time to say our goodbyes and collect our treasures from ashore, We're so hopeless at goodbyes so concure our return in a few weeks time. The next few days we spend in desert d bays where we're able to collect limes, breadfruit, grapefruit. But the top of all tops is Granny got to almost headbutt a Manta Ray and snorkle with Morrish Idols.
---