Joost Van Dyke - White Bay 18:26.48N 64:45.62W

Pacific Bliss
Colin Price
Tue 26 Jan 2010 19:36
Joost Van Dyke - White Bay at night
What a night. So much promise from such a beautiful bay which is the home of the 'painkiller' ( a cocktail of rum, pinapple juice, coconut, nutmeg, and some secret ingredients). We had two deck chairs on the beach at sunset with our toes in the water sipping our drinks when Colin said, "This is what I thought the Caribbean was going to be like".
We had anchored in 4m on sand with probably slightly too little chain out. After dark the wind got up a bit and the swell started to build breaking on the reef. Colin started an anchor watch, and we would rather have left. Trouble was there was no way out of the bay at night as the reef channel was unlit, and narrow. Then things started to happen.
We dragged a bit before holding properly, this put us between two boats, one of which was a motor catamaran which did not lie like a sailboat, so we ended up too close on many occasions.
At 1am a large Dutch sailing boat dragged its anchor and was blown over the reef which took about half an hour of high drama. The pictures don't do it justice, but gives you an idea. Really horrid to watch. A Brit in a dinghy went to help, but couldn't do much. The lady on the boat was heard to shout, just after the photos taken below, "Paul, I want to get off the boat". The rest of the night they could not get into the bay proper as they had no engine.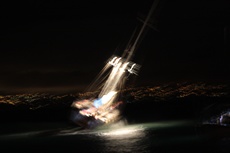 A crazy American, thought he'd run for it, and careened around the bay before giving up and going back to his original mooring in a really rolly place.
Another crazy American dragged and seemed to love going backwards and forewards along the reef before eventually being pointed to a buoy. One painkiller too many perhaps
By dawn we were exhausted and just got out as quickly as possible and headed up the coast to Little Harbour and took a buoy for the day.

All this and later on we find that White Bay is notoriously dangerous at night which is NOT mentioned in the pilot books.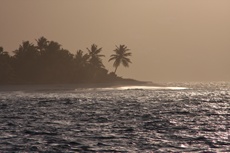 ---