Sapzuro

Pacific Bliss
Colin Price
Sat 18 Sep 2010 16:57
Sapzuro
A little slice of heaven!
I just gets better, Columbia is such a treasure of a place, I suspect we miss alot of it as our Spanish is mostly cee and arm movements but we're getting better and we're in a place now where we're not hassled, just little dug out paddling up to us to say hello.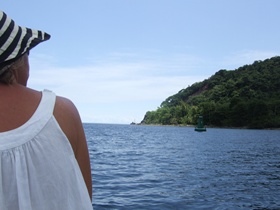 This is the last Columbian village on the Carribean sea, so we made the 112 mile journey here before entering Panama and the treasured San Blas Islands. I wouldn't have missed it............ It's a perfect Palm lined bay with a back drop of Jungle, and the sounds to befit a Jungle, It seems the Noisey Hours are 4-6 when the Parrots Parrokettes Monkeys and goodness knows what get vocal. We love it.
We got into the bay about 5 just after the afternoon tropical downpour, a time when everything smells fresh and the air is cool, but evaporating quickly. The kids dived in the water and Colin and I once we had tided up the boat, celebrated a hard but successful crossing, no chance for blogging just sail trimming, tacking or holding a course in a sharp choppy sea and wind changing direction every 15mins. With the anchoring tricky and shallow, with our stern tied to a palm tree not a position we are used too so an added bit of stress to finish with.
The following day after much discussion about how long we should stay, Colin likes to be precise and know when we're leaving and I like not to feel under pressure. It's right to move on as we do need to get home some day...., but this time we leave the decision to how we feel about the place. The notion of school is binned and we ventured into the village. Unlike so many of the villages in poorer countries where the surrounds are dirty and the buildings fundimental, walls and roof, this place looks like an artists colony only it's not, the houses have salvaged bottles and driftwood worked into the fabric of the walls. The Yards, definetly not gardens have wonderful arrays of colourful flowers and foliage. Its love at first sight.
The sound of South America have changed a little since leaving Cartagena, it's now a rather monotenous 5 bar bass guitar rift, when we heard first it in Isla Rosariosa we thought it was someone practicing a new musical instrument but since we've moved on it's everywhere and here is no exception, only there seems to be a group of places in the village vying for sound supremmesy. Even given this the place is terribly peaceful. God know what the noise is but we shan't be buying the record.
Sadly lunch away from Cartagena has tripled in price and the 'Lady who Lunches' is a thing of the past. But hey I'm not complaining, my only issue is we've not seen a shop for nearly 3 weeks now and fresh stuff is becoming a memory. It just require more imagination when feeding a family or more precicisly , particular me. Colin, now hunter gather Husband is dispatched out on to the reef, spear gun in hand to provide for his family. 20 Mins later and the last of our Potatoes baked the final carrots grated and colin appears with Parrot fish in hand, everyone gobbled up our late lunch with great gusto and all now firm devotees to the favour of parrot fish floured and fried.
There are only 3 other boats in the bay, one unoccupied; one occupied by an old american guy who's lived here for a year with his local young girlfriend, and another boat who I saw in Cartegena, it's occupied by four very lovely colombians. All in there late 50's and 60's from the coffee growing region. I'm informed by colin about our new neibours, he is great at whizzing around and saying hello to folk, but this usually results in us hosting a drinks party. But these people where very very lovely and very useful when it comes to our planned trip back into Columbia, Not to be advised, the only dangerous region still in Columbia, bugger. But I think we feel that our intrege of columbia is such that we will be back. Chatting to these guy makes me very keen to come back to the coffee growing region. It definitley feels like a county starting to stablized and be safe and a country that hasn't been awash with tourists so still feel fresh.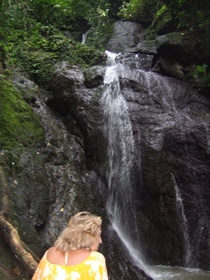 We walked up to a waterfall with the Columbians
A day in bed for Colin and back to school for me and the kids, followed by diving and swimming in the bay. 4pm see the start of the downpour which makes the children very very busy collecting precious rain water, it's a massive down pour so they manage to fill 13 large glasses of water and 2 saucepans, whilst I'm able to scrub all the bird poo and off the decks and wipe places I should have cleaned months ago. All this done and feeling very good about our tropical rain down pour we retire to the saloon to drink hot chocolate and red wine.
Today we finally got to do the thing we came for, walking to Panama. Having walked 6.5 hours ill-equiped in Grenada we leave with Medical kit, Water and Snacks, wooden spoon and sink. Plus on route we find a 'Homemade Shop' ( a house selling pasty type turnovers from it's veranda, to set us up for the trip.) But the journey to the boarder is up some ram-shackle muddly steep steps until we reach the heavily armed boarder point.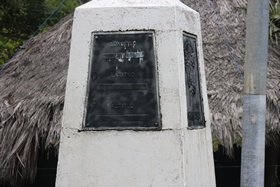 We all learn some Spanish (left and right), show our passports, talk about if the men at the point have kids ( good, easy breaking topic of conversation that always softens even the crosses looking Border guard) Once your in Panama the steps become very smart probably the best we've seen since europe, great boarder statement. On our treck down into Panama we hear great birds calling, see butterflys the size of humming birds and Cosmo finds a grass-hopper that is a double for a bit of dead grass.............
But the village on the other side is decidedly less precious, it seems there is a trodden trail (probably not well) that folk make over the boarder and then head to the beach and it is a beautiful beach, you can't believe that this county and coast line isn't going to be exploited at some point.
The whole town is crawling with border army guards all brandishing their AK47s, Cosmo was thrilled at seeing his first rifle touting policeman but now he is becoming more interested about how they carry them, the gun is just common place. Whilst we crossed at the given border control these guys obviously spent a great deal of time in the jungle looking for the lesser haired Gourillas, and given the army presence they must still a threat.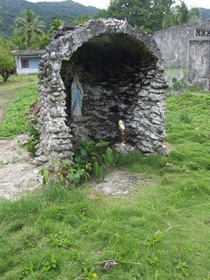 Cosmo declared yesterday that it was his favourite teddies birthday, Snowy.
Time to restock before heading east and to the more remote San Blas Islands where even the most basic supplies are hard to come by. It would be hard enough just catering for the family, but we have 3 weeks to survive on next to no fresh ingredient before Colin's parents arrive, so I'm panicing abit. We head out to the open sea to make the passage to the next Town down, in our dingy and 3.5 hp secondhand ancient outboard..... The water is increadibly clear and when the heavens open we just don't care as we're all having a lovely time watching the waters edge and rain forest towering above. Colin and I are in love and not just with each other.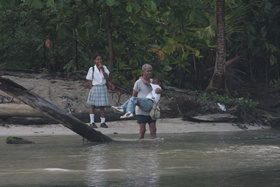 Capurgana (or "Chubby Cheep Cheep" as we have come to call it) is definetly more vibrant happening town, it's bigger and has some almost resort hotels, Columbian style. We are greated by a guy who posted another person to show us the way to buy gasolina then we found some where for lunch ( still expensive ) and then searching out supplys. The Boat doesn't appear to have been in for quite sometime but we manage to find 3lb carrots, an over supply of potatos, some ropey looking Tomatoes but we did manage to buy 30 free range eggs for £2.00 and as we get through about 2 dozen a week it's a bit of a delight. The town whilst it could cater for a visitor, you can even reach it by plane. but the heart of the place is local. the main square is a patch of grass the size for 2 football pitches where kids kick a football around in the mud and the asses graze.
A typical Ma&Pa shop - Tienda
Zinnia modelling for teh Postbon bottle poster
It was in Capurgana we came across the Amazing Albeiro Gilardo.
We just stumbled upon his place by accident, Albeiro is a Recycling Artist come home builder. And he's changed our lives.............. every one of his pieces of art are made out of bottle top, can pull chains, salvaging marbles out of whickey measure pouring spouts, Paving stones make from TV Screens, a table and chairs, and a kitchen to die for. Arnalda found us looking at his fence when he invited us in, and enthusiastically showed us his workings. It left such an impression on me I drempt about him for 2 nights running.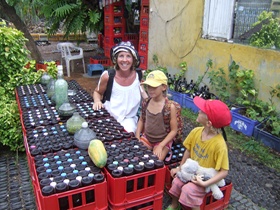 Back home for the kids home styled Snowy birthday party and tomorrow is good by to our top spot thus far.
---