Norman Island and Trellis Bay 18:19.3N 64:37.5W

Pacific Bliss
Colin Price
Sun 31 Jan 2010 12:58
Norman Island
We are now on Treasure Island, otherwise known as Norman, the upside is we have found a bay with only afew boats at anchor and none are one of the g'zillion charters floating around these islands. I think we are safe in saying the BVI's have been a bit of a disappointment, we are pretty glad we are not so guess
Anchored stern to and then had some arsey Americans say we were too close to them. Not that they were wrong, just that they we SO rude. Anyway we moved to the other side of the bay, and away from them. We loved the place. Diving Pelicans, shoals of fish, bought fish from the fishermen. We stayed for two days.
Then, on the last morning there was a pelican feeding frenzy and what we think was an eagle ray (about 2-3m across, brown with spots) coming to the surface with its tips out of the water chasing the fish. All this within 10m of the boat.
Trellis Bay - Full moon party
Had a fast sail upwind from Norman island to the North tip of Tortola in a stiff force 7. I was very satisfied with the boat performance as she tacked through 100-110 degrees. More leeway than a mono' I suspect but need to check that on the plotter. Very busy bay with all buoys taken. We were lucky to get one just as we were about to give up.
Lunch ashore with Fiez and Daphne our Dutch friends from Aqaumante.
Took Fin and Sam off their parents and had them for the night. Z and C very excited.
The full moon party is held in a beach bar come pottery that was set up in 1995. The party kicked off at 7ish with fiery boxes and balls and a metal man set on fire just off the beach. Quite dramatic.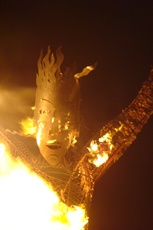 Then dancing stilt men and loud music made the night and we got back to PB with very tired children about 11pm. Quite and event, not too commercial and certainly worth going to.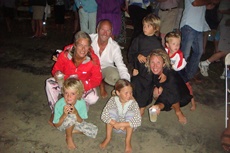 Bomba Shack
For the record, we tried to land at the Bomba shack, but the surf got the better of us and we just sailed by close to.
---