Soggy Sandwich

Pacific Bliss
Colin Price
Sat 26 Oct 2013 04:13
Soggy Sandwich
Named after the prime minister of the day back home in Blighty. This is a cyclone hole so a great place to have come across just before a bit of wind struck. It's not our favourite place and the weather continues to plague us. Going ashore is flipping hard work it always means wading through mud, so much so you better going local and not wearing any shoes at all. Cosmo returns each excursion covered head to toe and I've just about had my fill of the mud and the weather. Colin and I are really struggling poor Colin has the weight of the family baring down on him as we didn't really want to embark on this leg we all felt done in with the travel and this added to a hideous passage, illness and shocking weather we're finding the conditions and confinement difficult.
Just before I go down with my second bout of gardia, Colin and I try and work out what to do next, we are the most miserable I think we've been on the trip so far. Oh and too boot even if the rain stopped the wind let up we still wouldn't be able to swim here due to the fact an abatoir used to operate leaving a legacy of biting sharks.
Family planning poster at the clinic
Kids to play with
Cosmo's buddy Kevin a remarkable and very lucky boy who after the death of his mum in an outer island has been adopted by a great family in villa.
Copra boat stops in.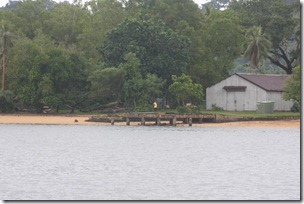 The up side is we're stuck here with a couple of very interesting folk, Lin and David who started up and run a Charity called the Butterfly Trust, an extremely worthy trust that is aiming to help the Ni-Van people in the area . Having been living in the area for the past 5 years They realise that the work that is most needed is low impact assistance working to help provide health and educations improvements. Of all the work we've seen these guys really seem to be getting it right. When we met they were ferrying a group of Dentists who are checking and teaching in each of the islands in the Maskaylyns about aural hygiene. Tony who lives in Port Villa but who was acting as the dentist taxi/hotel in his Catamaran has a wealth of understanding about Vanuatu, without realising it at the time he became our saviour with his advice on places to go.
We met the lovely Mary (not her real ni-van name) on shore who provided us with produce from her garden. A lovely lady who became a widow a year ago, who's eldest son is awaiting a prison service for growing cannabis. We later learned, in wonderful 'third world style' the raid, which was conducted after the Australian police training course didn't managed to get their act together with delivering the final nail, leaving all the displaced would-be convicts stranded in Villa without the means to get back to Malakula. Thankfully for our lovely friend Mary she got her gardener back.
But all things being it was a very low period on the good ship Bliss, we all wanted to go home. Then adding insult to injury I spent the next week tucked away in bed nursing another Gardia attack.
The difference in bananas
Memories of French interests in Vanuatu
Local bakery
---