Bonaire 12:08.8N 068:17.1W

Pacific Bliss
Colin Price
Tue 8 Jun 2010 16:06
The Sail to Bonaire
Our first day sailing of the 3day/2 night passage was a delight, as with the other attempt we left at 5'ish, we hooked up with another OCC boat 'Shiver'. She is a 30-40yr old Oyster, and looked in our eyes a bit of an old tub. We where convinced we wouldn't have the arse kicked out of us like we would have if sailing with Bonaire, but alas we did, we later discovered she was an old Fasnet racer, where comfort was over looked for speed. Early on this day we did discover the hydraulics that had been fitted, fixed and then fixed again where in fact still not operating, this time we decided to keep going but just use the original pump as we had done thus far on our journey, and whilst deflated we were not going to let this ruin our trip. The problem obviously lay with the equipment and this could be sorted, at a price. So we where having a most delightful day baking bread with the kids making pizza with the dough, teaching them to sew and make there own teddy clothes, reading Famous Five, all with the odd excitement of having dolphins playing on the bows. Colin and I were left with the feeling of thoroughly good parents.
Sadly this little bit of paradise sailing was short lived. This is the first real bit of down wind sailing we have done all season, and I really was enjoying it, the slogging up wind I have become accustomed to and take it as the norm, dispite Colin telling me this isn't normal........
With seas and wind building on the first evening, Colin realises we've still got a problem with our autopilot 'Nick' (named by Cosmo in honour of his best friend Nick Sampson). As said this is the first bit of luxury down wind sailing the boat has really faced so this problem seems not to have reared it's ugly head. Due to the problem all ideas of perfect parenting were dashed and when on watch Colin and I were left hand steering, whilst the other kipped. The weather continued to be challenging for Nick so for the next two days the kids where left to the care of the 'One Eyed Babysitter'
Shiver very kindly moderated their speed to keep pace with us and even though we hadn't met Red, Liz and Freddy, we were grateful to have a boat nearby. And, the VHF wasn't fixed either, so we had to use the SSB to talk to each other at distances over 2 miles.
Bonaire
We arrived in Bonaire at about 10pm on Monday night, and the little undeveloped Island we had expected to be greeted by was anything but, the lights from the shore looked industrial and the land itself flat, but it is the Netherlands I suppose. Tim came out in the dinghy and showed us to a free moring buoy. We thought we'd only be here for a few days, but, as you'll see we got rather stuck in this odd little place.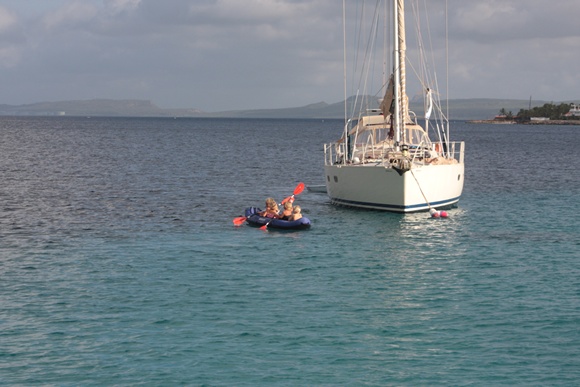 Next morning Tim and Steph took the kids off for breakfast so we could get a bit of shut eye. We were not feeling our best once we woke-up and Colin was deflated to a state for winks and certainly very pinched. I eventually had to have some words. The dead pan state for colin was finally him hitting the 6 month duldrums. Luckily I'd got over my low ebb and was able to deliver some up-beat to his all too true concerns. That night we had drinks on our boat with our neibouring boats, which managed to lift the spirts. That night whilst still in a bit of a fug we were pursuided in to joining the young or sporty to take up; Wake boarding and Kite Surfing and for me to book onto do my Padi this being one of the best places to dive in the world.
Bonaire is a national park, and due to the healthy coral, anchoring is a no-no anywhere. Picking up a mooring buoy is the only option. Tim kindly guided us and Shiver to two on the night we arrived. And given it only cost $10 a night we didn't feel too pinched. After breakfast and swimming on the first morning the kids returned with stories of amazement about the fish all around the boat and how Sam on Bonaire (boat) had managed to bash one of the fish with the Porridge spoon after emptying the left-overs off the end of the boat. They weren't kidding.
Over the next following weeks we turned into sporty Mum and Dad in the hope could dispell any negetive considerations of jacking the whole lot in and returning to home and work life. We had picked up some new friends, so life became a continual party, whilst I went to dive school for a week. Whilst still exam-fobic, I definetly got the better end of the wedge as I was child free and education free during the day.
Once qualified Steph and Tim had the kids and Colin and I did our first dive together, and it seemed to do the trick to finally lift Colins blues.
In the meantime, we got on with all sorts of watersports:
Kyacking for the kids
Wakboarding for Dad - Panic
Much more elegant for Mum.
Finn had his birthday which involved 5 boat families and a few big kids living on boats. Finn got a new sporty toy, a knee-board, which was an instant hit with kids and adults alike. We sailed and dingyed (I sailed the Tera) over to a small island off bonaire, Kleine Bonaire, for an all day BBQ, kids making camps their guns made out of dead coral, and ending with a Family Tug of War and a sail home in the dark.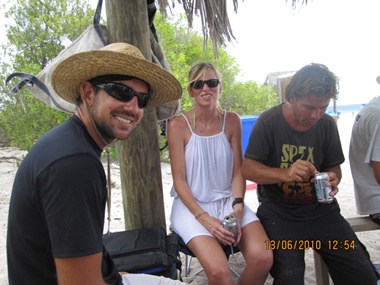 The fish continued to amaze us as did the clarity of the water. From our mooring the bottom selved away dramatically with our bows in about 12 feet and leaving our stern in over 40ft of water and still being able to clearly see the bottom and all the fish that swam between you and it.
It seemed like our one week anticipated stay kept on increasing just as what Bonaire had to offer seemed to increasingly appeal to us. But alas we where eventually bullied out by swarms of tiny krill. They seemed to arrive from nowhere and turned the sea red. They also left an extremely unpleasant whiff in the air and up through the heads and pumped into the sink. But worst than any of this was the small perpetual bites you got when you swam, or, when diving in a wet suit they got trapped and really hurt. Four days in to the attack of the krill and we reluctantly left. There were various theories of what they were, from atalantic krill, to baby lobsters. We think that they are actually crabs, but never really got to the bottom of it.
Had a day out on Bonaire for the big kids to have a go at kite surfing. Very hard! Cracking sail, there and back, culminating with a boarding by Curacao customs as we sailed home into the setting sun. Very dramatic as Tim chose to remonstrate with the customs man about his big black boots.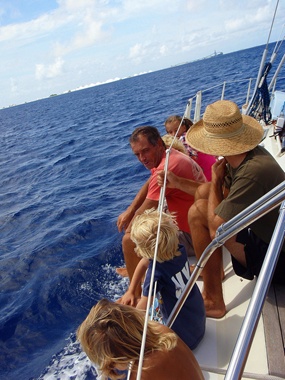 On the last day we took off with a mass of adults and kids to go diving on the North of the island. Had, I think, 10 adults and 9 kids. Great sail down, good diving, and then a rocket reach back in a stiff breeze and flat water.
---