Samoa IV - Savaii

Pacific Bliss
Colin Price
Wed 8 Aug 2012 02:22
Savaii
We arrive on Savaii having to scrabble up large litter strewn volcanic boulders. Having no idea where to go now we opt for finding a much needed cup of coffee. Samoan guest houses are keener on weak instant so we've been in a state of withdrawal.
It is a rather strange motel within the a Mall but it's has delicious 'Illy' coffee and the grooviest,comfiest of 70 style furniture. If only I could fit it in our lockers!
Managing to get cash in strange places as always a pleasure.
Bus travel in the wood panelled buses is entertaining
Fales on the beach are a great place to stay and an attempt is made at keeping up with school.
These are our home for a few nights, all very romantic as during high tide the water comes up and laps up under the little houses. Reality is it's rather disconcerting and noisy in the middle of the night, we're used to living over water but in normal circumstances we wouldn't be sitting under the lapping shore-line.
We want to do a bit of investigation but not with our cases on our backs so hitch about 15km up the East coast. There are far fewer cars on Savaii, read one ever 10mins, and all of them are going the other way. We spend our time walking/talking and making up imaginative stories. And eventually get a lift. Hungry we treat ourselves to Sashimi and the kids pootle about a swimming pool and beach for the afternoon at a small resort, for once Colin and I find a bit of peace and enjoy a relaxed afternoon.
Hitching back is another story. If every car earlier on in the day was going south, now they're returning. So about an hour of waiting we finally get a lift with the only car we see.
The next day we set off again to try and circumnavigate Savaii with our thumbs. This time in the back of a coffee and chocolate farmers truck it's a far better option for the nasal passages than the 1000 baby chicks we rode with in Ecuador. We also get very lucky as this car is travelling all the way up the north eastern side of the island. To a strange hotel which is a throw back from the 60's. The lunch menu is everything with Chips only we're informed 'Chips are off', A wee bit Monty Python me thinks.
"Hi di hi campers - Chips are off"
The Banyan Tree
A 90m high banyan tree in the NE of Savaii can be climbed up by first crossing a rope bridge and then winding up a wooden staircase winding through the branches right to the top of the tree way above the forest canopy.
Cosmo was distraught about having to leave his teddies at home and has only been appeased with the promise of sleeping in a Banyan tree. In fairness Colin and I feel we might just have seen enough of Samoa, but this isn't going to be allowed by Mr Cos. Finally we find a last ride to the village of the rainforest in which the Banyan tree stands. After a short conflab with the village Matai we're granted permission to stay 70mtr up in the sky that night. Despite the discomfort it is a magic experience. Our host is the wonderful Ben, the eldest son of the man who helped save this very special Rain Forest (see 'The Penny Drops'). During supper at Ben's family Fale the heavens open and the likelihood of staying up the tree is looking less and less likely. This is rather alarming as the second we finish our meal the alternative sleeping accommodation is infested with hundreds of flying and crawling cockroaches. We've never seen so many and not only that, Bens home and kitchen are also invaded. Luckily our sleeping mats sheets and mosquito nets are kept dry and we escape the roach's. All fine but Colin and I discover we shouldn't have drank that beer before supper, it a heck of a long way down for a pee in the middle of the night.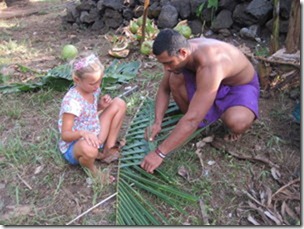 Ben climbs for coconuts, nieu
A school and rainforest worth saving
We meet an extraordinary group of folk 70mtrs up. Peter Blake's cousin and a family that teach us all about he healing qualities of Cold Pressed Virgin coconut oil. This turns out to be quiet a fluke as the following day's ride is from a girl who is the chief dealer for Coconut oil supplied to the Body shop. So over a cup of coffee we learn yet more about this evolving industry, the body shop have in the past year upped the product rage using cold pressed Coconut oil from one to 27 over the past year. Faumuina (my new best friend) it a power house and works for 'women in Business' a brilliant organisation that's chief aim is to help rural Samoa and keep those living in there communities. She is also a rather scary driver approaching speed bumps 'at speed'. Fine if your in the car but in the back of the truck it's a little hairy.
Coffee break rope swings, the village gather coconuts and leave them ready for collection.
Blow Holes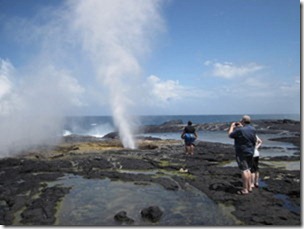 A local lady puts on a show of using the blow hole as a 'coconut cannon', shooting coconuts hundreds of meters in the air.
Finally we're on our way to the ferry and our final lift is hilarious. It's the Minister of Finance at the wheel. Kids and I are in the back of the truck and Colin talking in the comfort of the interior. Once our 'driver' discovers we're trying to catch the 2 p.m. ferry things get a bit frantic. Unbeknown to us we've left it far too late. No probs for Mr Finance as he just puts his foot down and turns into a rally driver, which leave me holding on the the kids for dear life..... Sadly with only 2mins to till the boat departs we're unable to really say 'thank you' and goodbye with any grace – just grab tickets and jump aboard the ferry as the last passengers.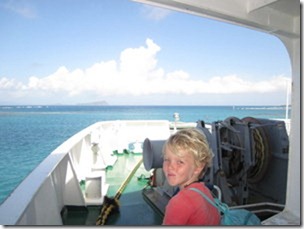 We feel, once back on the main island, we're happy to settle for the sedate bus ride home in Apia.
---