Tahuata - the last few days

Pacific Bliss
Colin Price
Fri 18 May 2012 17:56
Tahuata - the last few days
We are now sounding really rather smug, enjoying our time away immensley, it's never easy but a least we're enjoying the experience more than not. On reflection it has been really rather difficult for much of our time. The first year was a rather a strain. It seems after that, one just becomes more resiliant to the difficulties and perhaps more than anything life on a boat becomes the norm.We still have our problems, living all together 24/7 is not a normal predicament for many families in many cultures through-out the world so it can, at time be more than a little strained. But without a doubt the positives over the past year in Polynesia have tipped the balance into the positive camp.
Luckily our distress over leaving Ua Huka is softened by a lovely night passage, good wind and calm sea the only turbulence was in our hearts having to leave the place, if we ever had a second home anywhere in the world it would be here.
As expected our welcome to Hapitoni on the island of Tahuata is loud and excited from the wild bunch of children, Cosmo is a bit of a hit with the boys, surprise surprise, so there all the kids come running to the break water shouting out the little rascales name all trying to egg him in to the water and jump from the boat to join them, but in trueth Cosmo is a wit of a woose. Lovely to be back with our lovely family friends here, however Rose is otherwise engaged 'at the Bingo' when we arrive.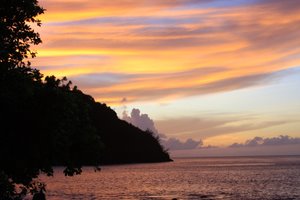 We left 3 weeks ago having given pizza and sushi lessons, it's rather good to find Vanessa and Nadia (Rose's daughters) making pizza when we walked through the kitchen door. Only It seems the lesson has turned into a commercial enterprise, during the next couple of days we see more than 30 of the things disappear out of the kitchen and off to other homes in the village. So much for traditional food being wild pig and raw fish!
The kids
Back to weather watching pre passage making, it seems we need to either leave now this minute or throw our plans into the lap of the gods. Colin is finding this decision impossible and is now really rather stressed by the whole predicament. Given I'm always in the camp to stay and Colin''s far better at bidding a fond farwell it's strange to see him so torn. He loves Tahuata and the lovely family we're friends with here.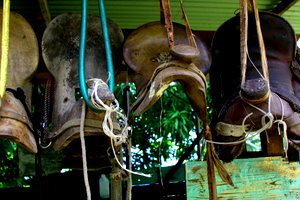 Ink drawing on tapa
We go through many clandestine conversations to help Colin ease his decision making about staying or going. You know he really wants to stay, but finds it difficult being behind our imaginary time line. Suspect this might sound rather ridiculous given we're about 2 years late returning home, but he seems oblivious to that worry. Anyway I manage to persuade him into staying a wee bit longer that way he's not torn away from lovely Fredrik too soon.
It's said that mimicary is the best form of flatery. My lovely husband definitely falls in to this catergory when it comes to Fredrick. Fredrick, grand Marquesan father and ruler of 10 children seems to have taken a shine to Colin and vis-a-vi, Only cammelion Colin really hasn't quite got the grand dimentions of Fredrick when it comes to his ritual relaxing-tummy-stroking routine. Despite Colins best efforts of rolling up his t'shirt and attempts to mirror the routine it's all rather farcical given the lack of mass and girth he has to deal with.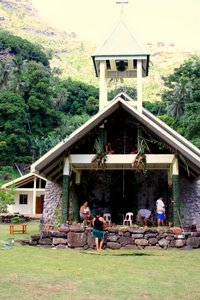 Hapatoni flower-ladies preparing church for Easter
It's near to Easter when we arrive and the village is getting ready for a time of great eclisiastical worship, Rose and Fredrick are really rather devote Christians so when the brothers from Hiva-Oa come to stay it's in the house of family Teahu. Within hours of arriving I managed to get roped into making Sushi for the brotherhood who are visiting. Having given ourselves an extra few days and we opt to go and collect Taffeta and his daughter off the plane from Tahiti, there on a medical trip, only, half way there we discover they're unable to return for another week so we end up dipping into a couple of our favourite bays for the weekend.
The bay next door to Eric Hiscocks favorite
We've seem many a Ray Manta but this weekend the water is crystal and the Manta's are curious and it makes staying a very wise decision. Then we go on a raiding party to collect citrus for our friends in the Tauamoto's. We've made friends with the guy in the bay so his garden is just open doors for us to gather what we want. A few of the this seasons Pacific crossers have started to appear it's strange speaking English for the first time in a year we realise we've got to be careful not to be too 'know is all', we really have become accustomed to the life here and obviously we're big advocates.
We return to the village for easter weekend, I suffer from some strange and extreme level of exhaustion whilst Colin and Zinnia dressed in white attend a long (2 hour) candle light atmospheric, evening church service all sung in Marquasen. Followed by one of the strange evening meals, chez Teahu.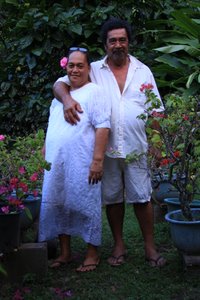 Miraculously the wind changes on Easter Sunday, we' ve managed to swim with fornicating dolphins 2 more times, frollic with majestic manta's for two days, fill our boat with citrus fruit, wild meat, 4 regimes of Bananas and on the decks we have 5 enormous sacks mineral rich earth for soil-poor friends in the Tuamotos. And we leave behind prints of family photo's.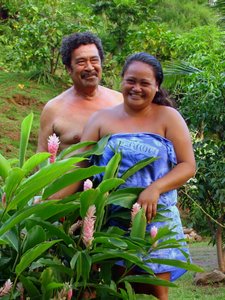 Family photos
It's a relaxed and perfect end to a land that we're all in love with.
---