Curacao 12:04.3N 068:59.0W

Pacific Bliss
Colin Price
Tue 22 Jun 2010 02:12
Curacao a place where cruisers go . . . .and many never leave
Whilst Bonaire had not been the quiet sleepy back water we had expected, and aeseticailly a little bleak, but we had a great time. The water will, I am told will be the clearest we find in the world. But for us we were able to give ourselves a good hard shake and start doing fun things, not just boat related missery. But finally the krill drove us away, and off we headed to Curacao. Its only about 35 nm away, so no big deal for us hardened sailers, but we ended up motoring all the way as there was no wind.
Curacao is a bit of a bureaocrats delight and a cruisers nightmare, the Coast Guide have a very heavy presents, I guess this is mainly to do with it's close proximity to drug producing countries, But it's alittle OTT. Your photographed from a low flying helicopter as you arrive. There only 5 designated anchoragesa on the entire island, but your not allowed to just cruise between them. First you choice an anchorage and purchase a permit for this honor and if you would like to see any more of the island you have to get permmision to move your boat from the authories, and purchase another permit, this is no mean feet as you need to find a way into the capital, your unable to sail in, the office seemed to be open for a limited time during the day often not specified, then going through hoops filling in numerous forms, drawing pictures of your boat! paying $10 dollars, least of the problem, fine if you moved once but if you then need to returnd to the original less remote anchorage you have to go through the same process all overagain. This proceedure seems to curtail most cruisers moving around the island, unless your name is colin and you decided to move to an undesignated anchorage and still not tell the authorites. So whilst I'm banging on about the beaurocratic process and heavy handed Coast Guides we where in fact boarded twice by dirty booted customs guards, our friends on s/v Blue Sky have spent 5 years circumone navigating and haven't been boarded once until now. Spanish Water is a difficult place access due to the coral reef so movement in and out of the bay is only possible during day light hours. Due to the inablitly of movement a few folk forget or chose to leave mooring lights off. This is not allowed, so in true Gistarpo style boats where petroled betwwn the wee small hours btwn 1-4 am by customs and there flash lights and then boarded.
Hazzarding a guess, this is not one of our favourite hang-outs. On First arriving at the Cruisers happy hour in the local quaintly named fishermans wharf, looks more like a wreck. Whilst the 3 large black rockvila's are somewhat agressive, the fellow cruisers not. There's only one problem, everyone is about 80 and on our first night, a congor around this sad looking excuse for a bar, is quick to jump up, It's bad enough for us but when our 20'somethings friends rock up Ross's comments about kill me if I ever get like this confirms we're in a saga holiday cruisers camp.
Saying all this we acturally arrived in Curacao with some boat problems and after nearly 2 weeks weeks in bed we discovered I have some naste tummy bug that I needed a mega strength of anibiotics to rid myself of the nasties. We then went on to successful sort our autopilot problems with the a company Westech, they were great they sorted the problem in double quick time and at double quick price - no complaints though. NO autopilot and we'd have been turning aroundm and coming home. We also learnt to knee board which is great fun, all thanks to Finns Birthday present even the adults and learning new skills. We bought Colin a much sort after Windsurfer, from a neibouring boat from Brazil, s/v Pajot and finally found an Optimist for Zinnia a week previous of her Birthday, which was jolly lucky as we had been promising one for 18months for this grown-up age of eight, so whilst it's a frustrating place and bar the city centre a aesetically void island, but saying this we weren't able to travel to most of the island, so perhaps we are judging it unfairly, but suspect we won't be back. especially as we where finally kicked out.
Entrance to Willemstad with swing bridge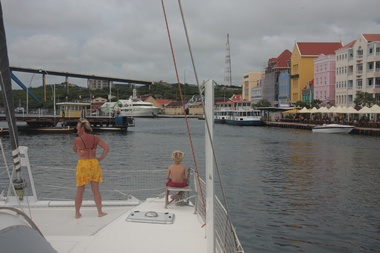 Then under a huge high bridge
Beach art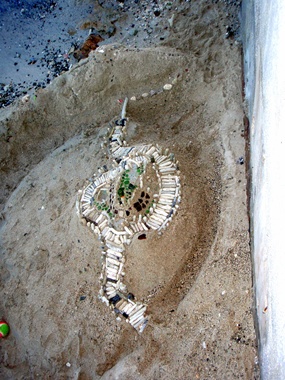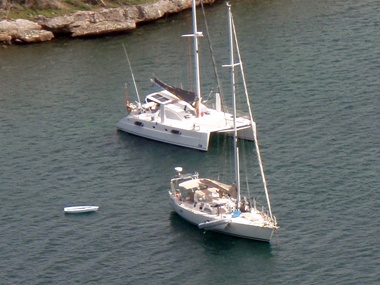 PB and Bonaire from the hill overlooking 'anchorage E' in Spanish water. Taken by Jim from Blue Sky
We tried school at the city library and followed by a traditional lunch
A hit with some and not with others, and the library was closed that day. Still we plugged on with school and felt like things are perhaps turning a corner. ie. Liz is doing more of it!
World cup final day - same all over the world I guess
Recovering the Spanish flag that was 'pirated' aboard the 'Dutchies' boat (Jonathan A) after the final whistle.
Charlotte from 'Heatwave' for one final sleepover
On the road into town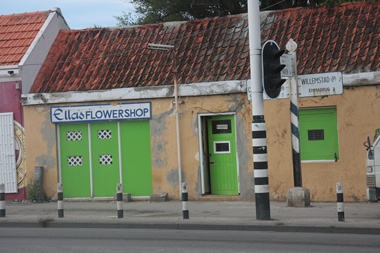 Market tasties
Maritime Museam
Mummy's hurty toe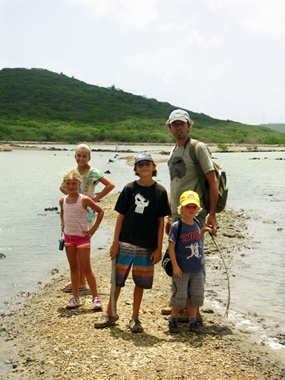 Playing the the foutain in Willemstad when we couldn't get into a hotel pool
BBQ Island where we had pleasant bug free evenings and the kids built a fort.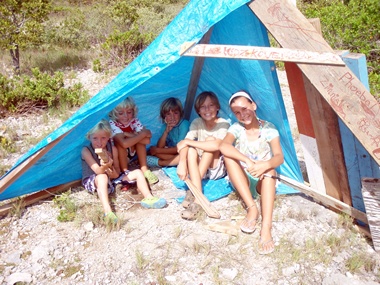 Boka Sami looking for Flamingoes which we found by getting in the canoe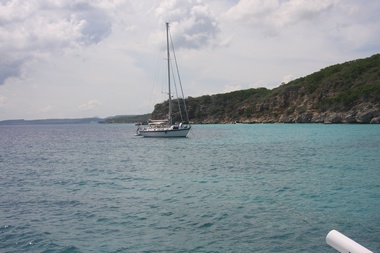 Our last anchorage in Santa Cruz towards the North of the Island
Letter to The Caribbean Compass about Curacao Customs. Colin does not rant - Much:
Dear Editor,
I write at the moment that the Curacao Coastguard have just got off our boat with their size 12 hobnail boots on, and I am fuming. Curacao has to be the
least cruiser-friendly island we have visited in either Europe or the Caribbean where we have been cruising for 7 months. We understand that Curacao has a potential smuggling problem with their nearest neighbour, but the systems for clearing in and clearing out of yachts is confusing at best, and it has very much tainted our visit here.

To explain. When you arrive, in say Spanish Water, you trek into Willenstad by bus and visit Customs. Then cross the river and go to immigration, then, if someone has told you that you need to do it, and neither customs or immigration know what to do either, you visit the harbour office for an anchor permit. Here you are allowed to buy for $10US a permit to anchor in any of the four anchorages in Spanish water or one of four more anchorages Curacao and you have to be specific. If you want to then move your boat to any other anchorage, you have to back to the office and get another permit. If you don't have a permit, and you are boarded by the ever present Coastguard, then they will either fine you or move you on. So to comply it means another bus ride and wasted half-day.

Anyway, we had played by the rules, and time had come to leave for Aruba. We checked out of customs and immigration, and don't get me wrong the individual experiences are perfectly pleasant. Then at the harbour office you tell them your route (and also laughably have to draw a sketch of your vessel, and I'm no artist). We wrote Willemstad - Santa Cruz - Aruba. This was not questioned, and I'm sure I was very clear in asking if I needed a permit, and the answer, just as clearly was, 'no'. We'll here we are in a lovely anchorage where we thought we would spend two nights, and have been told by the coastguard to sling-or-hook and be on our way at first light, 'cos we do need a permit! You can imagine the annoyance, at being moved on when we thought we'd done everything right. Our only choice is to return the 20nm to upwind to Willemstad, or leave tomorrow morning. We're off and won't be sorry to see the back of Curacao bureaucracy.

I hope these experiences will help other cruisers get it right.

Kind regards,
Colin & Liz Price
__________________________________________________
s/v 'Pacific Bliss'

---