Our Oceans I- The Penny drops

Pacific Bliss
Colin Price
Wed 8 Aug 2012 07:27
The Penny Drops

In the first month of our trip we met an American boat who where nearing the end of a 5 year circumnavigation around the world, naive and desperately in need of wisdom I asked, " have they, as people changed due to there experience?" "Of course", was the answer, and top of the list was, "discovering the generosity of man". Wonderful, wonderful, wonderful. The other great pearl of advice was, "don't be obsessed with cleaning". I'm liking these folk more every minute.
This message was written in coral down about 7 meters, The ocean loves us and we should love it a wee bit more, Cosmo does.
We love Sharks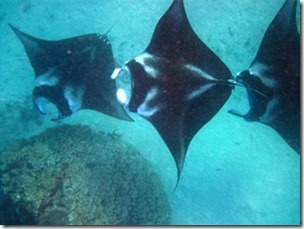 and Rays. All of which are under huge pressure to distinction if the Asian market to Fin soup or Medicine continues.
With the later bit of advice in the fore-front of my mind we naively embarked on this journey. Ohh and what a magic experience it's been. The generosity of people has been displayed in levels I could never have predicted. Being a 'born giver', often to Colin's frustration, we quickly find that we're 'out-given', the rewards are beyond expectation. We have been lucky. Due to our tardiness we've been able to spend long stretches of time in places seldom visited and far off the coconut milk trail sailed by most other yachts crossing the Pacific.
The places we've hung-out, are full of magic folk. It hasn't been as we originally expected,isolated full of unworldly folk. The new generation have made a conscious decision to continue living in there ancestral home lands, many returning from an earlier life overseas. However these places are desperately under serviced by their Government, relying mostly on Aid from NZ and Aus. Perhaps, this in turn makes them better places, subsistence living does not, as we had previously perceived, mean 'a life without', actually nothing could be further from the truth.
We have, to date, largely been observers of our world and the folk that reside here. It's been fascinating and we've felt that we don't understand enough to make judgements. Oh apart from our continued concerns over disposal of waste.. As you know we've seen some pretty macabre things from a whale being butchered, pigs being slaughter using extremely basic methods, Market stalls laden of dead and skinned guinea pigs, chickens sliced open displaying there young unborn eggs and dogs wandering streets covered in mange and hideously under nourished.
The boys learning how to fish this our friends on the islands. No long lines or 40km drift nets used here.
Not exactly quick on the up take, it's suddenly dawned on us when we where in the Marquesas that this ocean beyond most others is still alive and thriving. Colin's parents seemed surprised by the amount of growth we constantly have to remove from above our water line. There can't really be any other reason for this other than, the Med comparatively is suffering from generations of over fishing and as a result the oceans food chain has ceased to thrive, plankton is might important stuff. At the very least it has helped us to embrace the constant demands to clean. However the equilibrium of these seas is now being seriously threated by over fishing.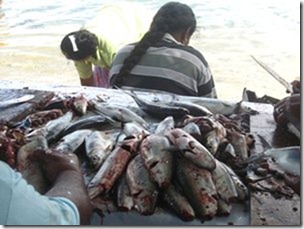 A very island respect for providing for friends and family. Nothing goes to waste.
Whilst we where in the Caribbean we was much evidence of Chinese/Japanese investment into strange out of kilter community projects, we learnt then that these projects assist the compliance with UN voting. These small not particularly wealthy islands represent a vote, it's a small price to pay for an nod in the right camp for whaling, fishing and sometimes forestry rights. Whilst outraged, our lives on board during the early leg of our adventure where difficult, we where up to our necks just managing with life on board so could only really log these facts.
The reef protects and feeds so many people, not to mentions it's remarkable beauty
The Alarm bells started to chime, becoming ever louder, during our time in the Cook lslands. It wasn't until we reached Manahiki that we found ourselves having to put our hands over our ears. Not getting supplies to these island people is one thing, but in truth no-one will ever starve. Our true concern was when we discovered that the Cook Island Government had just sold the country's fishing right to the Taiwanese. The current prime minister's home constituency is Manahiki, and many are outraged that he's swapped the multi-million fishing right for an impressive new building in Rarotonga with his name on it. The people of Manahiki are not in the slightest bit daft. With fishing rights sold, they know that subsistence living will soon be threatened. The foreign fishing boats come to make money not to protect these waters. It doesn't take a rocket scientist to work out these waters in a very short time will be raped of all their fish. These foreign boats are not, allegedly, allowed to fish within 12 nm of land, sadly the fish haven't been informed of this! Like we said these islanders are underfunded and certainly don't have the resources to monitor illegal fishing and we know central government will not lift a finger.
Evil Noodles, we're allowing our oceans to be raped. No Farmer would allow his entire stock to be killed and eaten yet we don't seem to think of the oceans stock in the same way. It isn't limitless. And our childrens generation may never eat the fish we take for granted.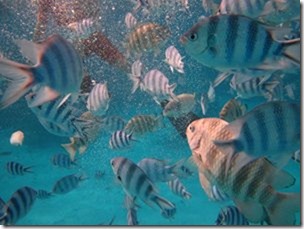 In a few short years, like in the North Sea, there will be no pelagic fish left – tuna, wahoo, dorado. These boats don't muck around, they hoover up everything in the sea. Then the Island people won't have anything to sustain them, they'll first eat everything on their reefs, and then they'll be forced to move to the city. End of local community is only a step away. For us this is a very real and shocking fact – the coconut may be great but to live on an island you need fish as well. We have been so so close to communities that rely on the ocean for their food. These folk don't belong to a consumer generation they fish and farm for their daily bread, taking nothing more than is needed. Although in reality even these guys take a little more due to the advent of electricity and freezers. But, its commercialization and over fishing that will leave the 'dead sea'.
We left the Cooks with real concerns, our hearts heavy knowing life as we know it will all too soon be destroyed. Ironically to celebrate the hosting of the meeting of the Pacific islands, chaired by Hilary Clinton, The Prime minister of the Cook Islands proudly opened the countries first Marine reserve park. So much Smoke and far too many Screens, clearly no one is looking at the bigger picture, 'no fish in the water means, no fish in the water'. The pretty little ones rely on the' big money' making yummy ones, just like any food chain. Protecting our oceans doesn't come down to not fishing in just one postage stamp of an area.
The Children swim and play with sea life everyday. Cosmo's collection of Sharks is growing, but Hammerheads are still his favourite
It's not really till we arrived in Samoa that the penny finally dropped. We arrived in port to see three Japanese fishing vessels feeding there loads to the mothership. We are just now feeling a little repulsed by the influence that these Asian countries have over there poorer Pacific cousins. Ironically what seems to be happening is, these ships take the fish from these waters take them back to a processing plant and hey presto the fish is bought back in tinned form for the island population to buy - It's all too ridiculous. We're pretty naive and having heard a lot about Chinese influence in economic poor African and South America whilst at home and listening to Radio 4. However it is not until now we've seen it for our selves that we've understood the full implications.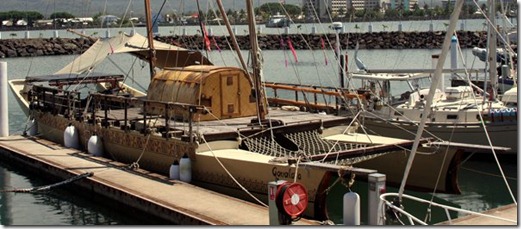 A rather nice and very succinct story we came across whilst we've been in Samoa was due to Cosmo's demands, we visited a rain forest at the north end of Savaii, a very small village called Faleaopo . His motivation was the opportunity to sleep a night at the top of a 70 mtr Banyan Tree. 25 yrs ago this tiny little spot in the world was very endangered. A cunning Japanese logging company had exchanged the rights of this rain forest in return for the building of a new primary school. Despite the villages knowing this wasn't a good deal they felt that denying the next generation a chance to be educated was all too powerful, the offer was accepted. The story luckily didn't end there, as the deal was being struck there happened to be a boligical researcher working in said rain forest. Apparently this man had discovered the first natural medicine for HIV. making this a pretty special research place. In the nick of time he spoke with one of the chiefs in the village personally guaranteeing the building of the school. Said chief then ran 9 km through the jungle and halted bulldozers in mid destruction. These guys got lucky, but for every story like this, I suspect there are more than a million each week that don't.
Without wanting to really bang on too much, which I know is my normal stance. We have had our eyes well and truly opened and we're living and swimming it every day of our lives. This is part one of our rant, it's a story about how the penny has dropped and just how we got to our current state of concern. " 'Dinny fret", we've not turned in to raving radical hippies, we're just the same folk a little bit better informed on a grass routes level. We have however managed to indoctrinate our children, I can't vouch that they won't become environmental activists !!!
---