Tahuata Week2

Pacific Bliss
Colin Price
Sun 18 Mar 2012 21:28
Tahuata 2
Hapatoni - Bay of Dophins
The welcome by the village youngsters was a complete treat, totally excited and hugely enthusiatic waving and screeming hello, it's so nice to be back on a small island again. Having dispatched half a forest on the dock we were then expected for lunch 'toot sweet', only our out board decided to give up the ghost. only 2 hours latter we limped into the quay with our rather over worked little engine. Lunch with Rose, Frederick, Tafeta, Frederick jr., Evangelo all Marquesans are given 2 first names the one we find almost unpronouncable with more vowel then constanents, and others of the family was a delicious range of meat in coconut. Nothing here is purchase if you can't grow or hunt it you go without bar the rice and sugar. Eating with this wonderful family alway leaves us shamed for one plate of food I'm able to squeeze in, they can demolish 3. By the end of lunch plans were afoot to have Fredrick, big daddy take us on a tour of the island the following day followed by lunch up the hill at DoDo and Helens house the other folk on the beach.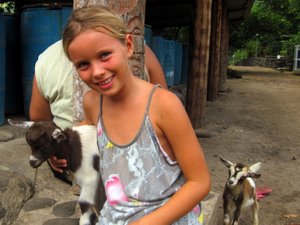 'Des guerriers'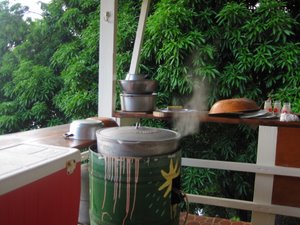 Cooking at home in an oil drum
Roads in Tauatata are not for the faint hearted, pot holed and only packed down mud through the jungle doesn't make for a particularly soft ride. But it does mean we have seen all the island visiting the beautiful church in Vaitahu which was built by the local commune though wierdly enough the wood - no doubt consecrated at Lourdes - was imported from France and is now starting to show huge problems coping with the local climate. So we're no able to stay a little longer in sleepy Hapatoni. We return back to eat delicious wild pig with Dudu and Helen. Helen is a wonderful cook and later in the week I spend time with her and her French granddaughter trying out coconut recipes
The ladies play bingo every Sunday, sometimes the stalks get so high the police are called in!
Copra drying
Who 'da urchin anyway?
Each day the village old boys sit quietly under the roof of the village meeting/storage area whilst gently carving away. Whilst the children, a gaggle of rather wild little folk, play in the mud. All villages on the islands host a small church that's well attended daily. It seems the there's almost a full house each evening for Mass. So at about 5.30 the mud clad children are barked at by there Mumma's and frog marched back to a hose and some smart clean clothes, no child here would ever answer back, when a parent barks it feels like a volcano is errupting.
Giving a short slide show to the school kids. Mostly photos of our trip.
Tafeta at work on a pair of earings for Liz
s/v Odesyee with Arnaud & Coco
Tafeta's rather amusing 'car'
under the bonnet with portable fuel tank for desiel!
Staying longer turns into a bit of a good thing. Not only was Colin and his village friends able to recover our precious outboard engine, it meant we've been able to spend more time with Coco and Arnaud our very special young French friends. Plus the day after Coco's birthday we wake to find the bay full of dancing dolphins. Despite the water being rather murky and full of stinging micro organisms it's worth ignoring it to be able to swim with dolpins for an hour. They stayed with us all day, so much so the children found the spectical really rather dull with in a few hours. Taking a dinghy was really rather excillerating being chased by these incredibly fast agile mammals.
So the day started with Dolphins and then we where treated to a treasure of a trip in search of hidden Petrogliphs, Dudu and Tafeta were completely wonderful driving us and talking about many of the histories of the island. By the time we left we had eaten well where loaded with more regimes of banana's than Waitross sells in a week and the proud owner of many beautiful bead and bone jewels all given to us as friends.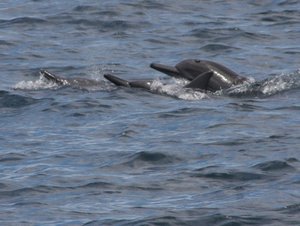 Dolphins around the boat in their hundreds. Gave a display of jumping and twisting like we have never seen before.
We take a tour up to the petroglyphs which we would never have found if we had not been with DuDu (an old French dude who has settled in Marquesas for 20 years) and Tafeta who led the way into the jungle up an unmarked path. Lots of tales of Marquesian history from Dudu who interestingly said that mostly the local people do not show an interest in their history - they live for the day and dont look back or forward. This is very much in our understanding when we had been told that Marquesians start the year with an empty freezer, then fill it and fill it until it is full. then they eat fresh meat and fish for a year until it is time to defrost the freezer, when they just feed it all to the pigs, and then start to refill it. Marquesians have a deep fear of not having enough - just look at all the meals we have had with the table groaning under the weight of food, most of which remains untouched. So much for not wasint food that could go to the third world.
Dudu and Tafeta
Will Colin be brave enough to get one of these? Watch this blog.....
We where told before we arrived that you where unable to barter things in the Marquesas anymore! Well this statement seems to be correct all we seem to be experience is things being given to us, We'll treasure them forever.
Hanamoenoa - Deserted Bay on North Tahuata
For a bit of a break, and the weekend, we pottered up to the North East of the island to a deserted bay with a single coconut tree.
Playing chicken in the dinghy with a huge water spout
---