Martinique, Cosmo's Birthday and "Where's Matty?" 14:36.0N 61:04.0W

Pacific Bliss
Colin Price
Thu 11 Mar 2010 17:59
Martinique, Fort de France
A most irritating sail down to Martinique. We left at midnight, motored till dawn and then the wind came up and we took a long tack out. Oriole, left at 2.30am and beat us to the entrance to the harbour by tacking up the coast. Skipper very grumpy!
We stopped in Fort de France, under a fort, and under the tricolor. The Saunders were due to come here the next day and we would take them down to Les Trois Islets across the bay. Great place to clear in at the local chandlers.
Sadly, the ferry didn't run on Mondays, the boat Michael was going to charter from St Lucia to Martinique went fishing and the possibility of swimming was scotched by Lynn. So, the Saunders weren't coming here after all. We decided to go down to St Lucia to pick them up. Left in the late afternoon and arrived in Rodney bay around 11pm having sailed most of the way on a single tack, which is most unlike us.
Picked the Saunders up the next day and immediately headed back to Martinique having been through the rather tricky customs process in Rodney Bay. Had a zippy sail and headed for Baie des Anglais on the East coast that Colin was very keen to visit for its remoteness and beauty. A very shallow entry made for an interesting anchorage. We only stayed one night as it wasn't the idyllic beachside anchorage we thought. There was a lovely anchorage around the corner, but far to shallow for us to approach. Got in a but of swimming and zipping around in the dinghy
"Where's Matty?"
. . . . . Safe and sound. Asleep again..
St Anne
Round the corner is St Anne. Nice little town, nasty little beach but great French bread.
Kids did some opi' sailing and got pulled along on the Dickenson boy's bodyboards. We vowed to get some out to us come hell or high water.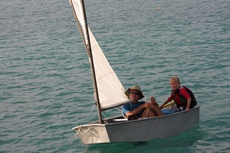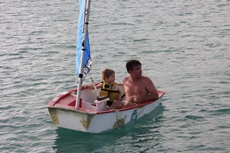 Cosmo had cheesy puffs for his birthday, in fact he had a mega birthday. Breakfast with Granny and Papa and the largest chocolate croissant in the world; lunch in a cafe; balloon games on the beach; pizza party and on the boat; all rounded off with cake and a film. Tequila and rum punch for adults softened the screams of the children bouncing on the trampoline.
---